{Homeschool Product Review} ~ Prima Latina
Years ago, when I was just starting to homeschool, I taught my three older children Latin. I used this very same curriculum, so I was thrilled when recently I was asked to review
Prima Latina Complete Set
from
Memoria Press
. I loved teaching it years ago, and how having a knowledge of Latin vocabulary helped them with word definitions and grammar knowledge. Since my youngest missed out because she was to young way back then, this program was for her.
What It Is:
A typical question that I am asked when someone hears that I teach my children a year or two of elementary Latin, is, why? It is not spoken at all today, and is considered a dead language. But I do have some very good reasons. First, over half of the words in English are from Latin words. Learning the word in Latin can help with English word meaning. Also, Latin is the basis of many scientific and medical words. Having a knowledge of these words is invaluable. So like it or not, if you are in my family, you will learn some Latin.
Prima Latina Complete Set is a year long Latin curriculum meant for elementary students. You don't know Latin, you say? Well this course is meant especially for those educators with no Latin knowledge whatsoever. But you will be surprised at how much you will learn, and how much you actually already know, because of the many Latin roots in English.
I received a consumable Student Book, a soft cover Teacher Manual, a CD, a flashcard set, and also new to this program, an Instructional DVD.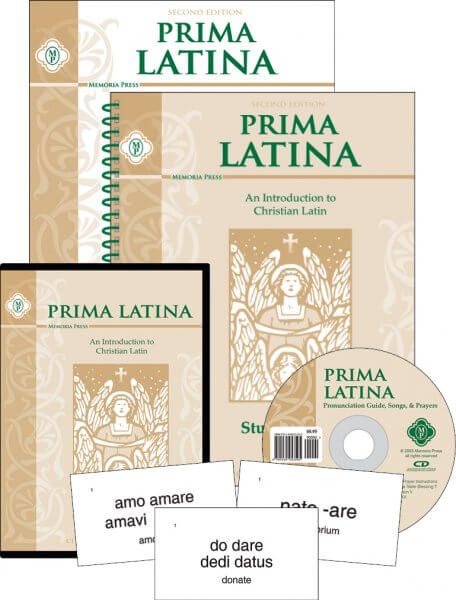 The memory work required in each lesson is a practical Latin word or phrase, five vocabulary words, and a line of a prayer to memorize. Very manageable for younger elementary students. There is a lesson focus, which through the lessons, begins with looking at the Latin alphabet and moves to verbs, nouns, pronouns, and other parts of speech. By the end of this book your students will have memorized 125 Latin words, 4 prayers (including The Lord's Prayer and Doxology), numbers, constellations, and the first of the five declensions in Latin. There are also 5 review lessons, 5 tests, and an answer key.
The Teacher Manual is an exact copy of the Student Book, with the answers written in, of course. There is also a teaching guideline section that gives an overview of the curriculum, a sample lessons, a reproducible vocabulary drill sheet, and all tests and answer keys.
The CD is straightforward and a great compliment to the program. In each lesson, Leigh Lowe herself says all of the memorized portions from each lesson. She goes through the words methodically, and leaves time for the student to repeat.
The Instructional DVD is a new addition to this curriculum since I had used it years ago. I wasn't quite sure what to expect when we started the first lesson and popped it into the DVD player. Each lesson is of Leigh Lowe, actually teaching the lesson herself, in its entirety! Each lesson is about 15 minutes long, and goes through all four pages of the Student Book. She also reviews quite a bit - something I really appreciate.
The flashcard set is actually the set of vocabulary words that goes with the next level in the series, Latina Christiana I. Many of the words are repeated in that next level, so it is a combined set.
How We Used This and What We Thought:
This elementary course is meant for grades 1-4. The words are all age appropriate and the DVD lessons easy to understand and follow. So it made perfect sense for the last little one in our family to do this curriculum.
We spend 4 days a week, working through a lesson per week. The first day, Nutsy would sit and watch the DVD. Leah Lowe is a joy to watch and I loved it that I was not the one teaching. She not only explained the lesson, but also described how to complete the two worksheet pages that go along with every lesson. The second day, we listened to the CD and she completed the first worksheet page.
The third day we finished up the workbook section, and fourth day I got out the flashcards and we listened to the CD again. I also found that having her write out her weekly vocabulary words on the last day again was helpful too. As we progressed, I added the review words into the flashcard pile and we would review them the last day. And to help with review, after every 5 lessons there is a lesson that is purely a review lesson.
I really loved being able to just pop in the DVD and watch the lesson. I also loved that we could see and hear the correct pronunciation - yes, I know that since no one speaks this anymore it doesn't matter, but I do like to do things right.
I liked the flashcards, which was also a new addition from when I had taught this years ago. I did have to sit and sort through them all and pull out the ones being used in Prima Latina, but once they were separated it wasn't a big deal. Nutsy really enjoyed learning her Latin this way. I love it, because I know that having a foundation of word roots and definitions is a big advantage for any student.
There were other products that my fellow Crew members reviewed, some of which are:
First Form Latin Complete Set
,
The Book of Trees
, and
Nature's Beautiful Order
. You can see all of their
Latin curriculum
on their website. Check out what they all thought by clicking below.