Don't you love the name of this product I was asked to review?
Algebra for Breakfast
and their
video-based math enrichment program
is kind of like breakfast. Small bits of hands on algebra that give you an head start in this sometimes difficult field of math.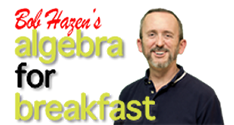 What It Is:
Algebra for Breakfast teaches algebraic concepts to elementary students in a very hands-on way. Yes, I did just say algebra for elementary students. The creator of the program, Bob Hazen, believes that even children as young as five can understand algebra, and has spent much of his career finessing his program that really does teach algebraic concepts to young students.
Math is really hard for Dasher - she has struggled with it for a long time now, and after doing a bit of research I know that she does have dyscalculia. She specifically struggles with math symbols and values. We have found that when she has math manipulatives she does a much better job, so I look for curriculum that stresses hands on learning.
When researching about this company then, I was very excited to read that math manipulatives are a huge part of this program. Using manipulatives to teach algebra? I was pretty excited about this.
There are three main components to Algebra for Breakfast:
Manipulatives
The program uses Mortenson blocks. These colored blocks show all of the numbers. You also need math dice - there are a few fun games you can play to teach concepts. The other thing that you receive with the full package is a CD of skip counting songs.
Online Video Lessons
Each topic has at least one video to watch. Some of them have a short minute-long introductory video that explains the goal of the topic. These ranged from about 4 to 7 minutes. The videos are of Mr Bob Hazen, the founder of Algebra for Breakfast, teaching a class of children. He has a special set of the blocks that are magnetized, so can easily be seen on his whiteboard. He lead the kids through the concept and has them use the blocks to show value and unknowns. When you purchase a subscription, the lessons are released in groups of ten, every week or so.
I was given access to both levels that are offered: Grades 3-4 and Grades 5-6. Dasher has strengths and weaknesses in math and so I decided to look over both levels and then put her in the one that fit best.
Really whatever grade your child is in in math is the grade you should choose. Each of the levels has different content, but there is some topics that are repeated in review. But the topics are targeted to each math level.
Worksheets
Almost all of the lessons have a downloadable worksheet. This single page goes over what the student was just taught in the video.
What is great is that there are a couple of options for purchasing this: you can purchase the whole package, which includes the Mortenson blocks, math dice, and skip counting songs, plus access to all lessons. Or if you own the blocks already, you also have the option to purchase the online material alone.
How We Used This and What We Thought:
There are a few beginning lessons that explain how to prepare for the actual instruction. There are some playing cards to make and the manipulatives are explained. Then you get into the meat of the lessons. After looking at the lesson headings I did decide to put her into the Grade 3-4, but for review purposes I did check out some of the lessons in Grade 5-6.
Since it was called Algebra for Breakfast, we decided to do this right after breakfast, or really the first subject of the day.
Dasher would get the blocks out and then set the laptop up and we would watch the lessons together. I loved the amount of teaching in the videos. It was the perfect amount of instruction and explained the concept well. I will mention that he is teaching a classroom of children and at times he had to remind them to pay attention, or to get out the correct blocks.
After the first couple of lessons, Nusty wanted to join us, so she also sat and watched. After we watched the video, I would print the worksheet and they would complete it. The total time we would spend doing this was only about 15 to 20 minutes. And after the first couple of lessons, I was very excited to see her beginning to understand unknowns. Mr. Hazen is able to explain to the students how to see squared numbers, unknowns, variables, and equations, all with the manipulatives.
This was a really great fit for her. One of the lessons had her playing a game that showed positive and negative numbers. For the first time ever she told me that she understood how to add them together. At times in her current math book she comes across a question like this one:
n + 14 = 48
She had told me in the past that looking at problems like this is like reading something in a foreign language, but last week when she was asked this, she got out her blocks and was able to solve it.
I watched a few lessons from Grades 5-6 to get a feel for that level. Some of the topics are similar, but the lesson is taught with 5th and 6th graders in mind. I do plan to finish up Grades 3-4 and continue into the next level.
I was really impressed with this program! I am really excited, especially with Dasher's struggles, to find a program that will help her understand algebra. I really had no idea how I was going to tackle that one with her, but thanks to Algebra for Breakfast, I feel like we can handle it.