{Homeschool Review Crew} ~ Perfect Reading, Beautiful Handwriting
I have pretty much finished teaching my last little one to read. She has struggled with it a bit, and has definitely not enjoyed handwriting. So when the opportunity came up to review
Perfect Reading, Beautiful Handwriting
from
Everyday Education, LLC
I was quite excited to try it out and see what we thought.
What It Is:
This program is meant to teach both reading and handwriting. It is based on the Charlotte Mason method of teaching, which encourages teaching the whole person of the student by using short lesson sessions, hands-on learning, and quality literature.
The downloadable book begins with 29 pages of instruction. This part was gold. It really explained how to teach the lessons, and how to adjust for different levels of students. There are also sections that stress the importance of reading aloud (very Charlotte Masonish!) and how important handwriting is.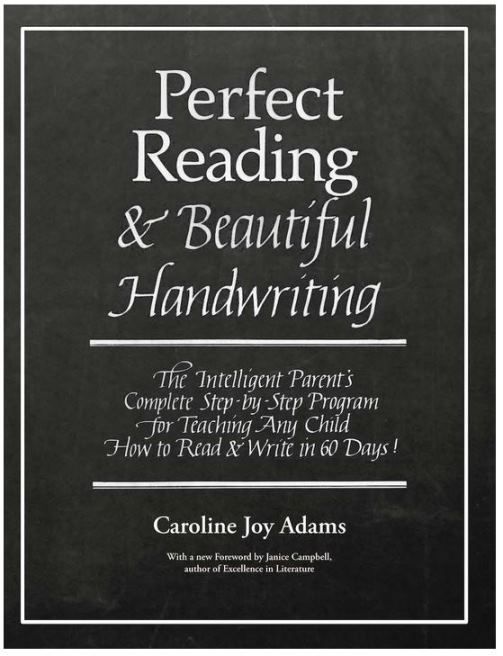 This book is meant for four types of students:
Those learning to read and write
Those with learning delays in reading
To teach beautiful handwriting to our children
To improve our own handwriting
The reading lessons are phonetic based and italic is the style of handwriting that is taught. One of the advantages to writing in the italic style is that out of the 26 letters, 20 of them are made with one stroke. This is a much easier way to first learn how to write!
Following the introduction are some helpful teaching tips. After I had spent a couple of afternoons reading through all of this I did feel ready to tackle the program.
There are 60 lessons. They are grouped into four learning chapters:
Alphabet Recognition (1 worksheet per letter) - these are simple half sheets, that show the correctly written letter.
Beginning Reading Lessons (lessons 2-23) - Each of these lessons focuses on a different phonetic concept. Some of these include blends, adding s or e, compound words, magic e.
More Reading Lessons (lessons 24-41) - In this section the student learns ee and ea, oi, oy and ow, and long o combinations, to name a few.
Even More Reading Lessons (lessons 42-60) - Here they are taught silent letters, word endings, and soft letter sounds.
There is a final 50-page chapter that deals with only handwriting and has lots of worksheets to practice with.
How We Used This:
I originally was going to have Nutsy do this. She reads at about the 3rd grade level so I planned to focus more on the handwriting side of the program. I began by having her do a few alphabet pages, to get used to italic writing.
Each of the reading lessons begins with an extensive word list. We would go down and read one column of words each day and then she would copy them out. The program conveniently has pages to make copies of for this purpose.
Then there are sentences to copy that use words from the word list.
We skipped around a bit; I would choose word lists that had word combinations that she struggled with. Along with the lists there are pages where the student can copy words directly below.
As we progressed and as I reviewed the introduction, I realized that Dasher might glean from this as well. She does not have very good handwriting and really struggled transitioning to cursive. She does read well now so I skipped into the last chapter that focuses solely on handwriting.
We did a few pages to familiarize her with italic writing. The Night Before Christmas is in its entirety and there to copy. There are pages that focus on proper slant, as you can see below.
And then the focus goes into making your letters smaller. This was harder for her but I did see her handwriting improving. Joining letters is also addressed; the goal through this section is to have beautiful handwriting
that people can read
. I do know that sometimes I read handwriting that is so slanted and loopy in its cursive style that it is very hard to read.
As we moved through this last chapter she was thrilled to see edged pen writing. Bookworm is taking an art class this year at our nearby college and purchased a calligraphy pen and nibs set so both of my older girls were happy to see these pages.
What We Thought:
I began this a little skeptical about the italic style of handwriting. But after seeing the improvement in both of the younger girls, I realized that this, for them, was much easier to handle. Especially Dasher, who I have suspected does have some sort of learning disability. She was able to legibly write in italics, and was not confused by letter formation as she was when we studied cursive.
I did only use the handwriting aspect of this program - I do wish I had a young one to teach how to read so that I could try this out on them! I loved the simplicity of the program and the way it was formatted. And because this comes as a downloadable document, you can make as many copies for your family as you need.
There were two other products that members of The Crew were given to review: Excellence in Literature Handbook for Writers and Working it Out: Poetry Analysis with George Herbert. Check out what they thought by clicking below!