I love teaching history to my children! So when these children's history books came up for review, I was a tad excited.
Brought to you by by Carole P. Roman and
Awaywegomedia.com
, these illustrated books are a perfect compliment to your study of history.
All of these books are generally laid out in the same way. They show what life would be like if you lived in this time period.
I received four soft cover books:
My children gobble up books like crazy so they read all four of them. But we did focus on two of them for the last few weeks.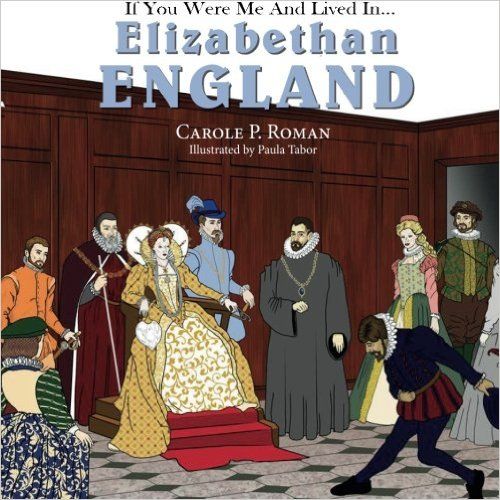 If You Were Me and Lived in...Elizabethan England was the first one we focused on. I liked how these books made it very personal for the reader - even going as far as to say what they would have possibly been names if born during this time.
Each page is illustrated and has good detail. I also appreciated the honesty and that the author did not glorify the time period. Yes, there are rushes on the floor and the houses did not have many windows, so they were darker inside. The food, for most of the citizens, was plain and mostly mutton, sausages, stews, and cheeses.
My girls loved learning about money. To live in a time when you made a few pennies a day and maybe never saw a pound in your lifetime was a different time indeed. There were also a couple of pages that described The Globe, and what plays were like in that day.
The other book we spent more time in was If You Were Me and Lived in...the Middle Ages.
This book was a bit longer than the other three I received. The book begins by describing the feudal system, which dictated exactly how you lived and what you did during this time period. The family described in this book is that of a knight or soldier. The house they lived in was described with illustrations. These illustrations were not as detailed as other books.
The other levels of society are shown also. After reading the part about the peasants, my girls said they were so thankful to be exactly where they were, right now in California in 2016. Learning about medieval medicine was also very interesting and again made us thankful for when we lived.
The glossary in this book listed nine other people who were famous during this time period. There is a paragraph written about each, some of which include Clovis, Joan of Arc, and Charlemagne. The vocabulary glossary has both the pronunciation and the definition of such words as bailey (the outer wall of a castle), and hauberk (the tiny loops of metal in a shirt of armor). I was actually quite impressed with this section, as there were 13 pages and a few words I had never heard before.
I loved these books and have added them to our historical library! I have around 700 books that are all historical, and I have them arranged in timeline fashion. All four of these have found their spots and will be used in our schooling for years to come.
The girls really enjoyed reading them and I appreciated how they language of the books made these time periods come alive. It is one thing to just read about events in a time period, but to have a book actually place you there so that you feel what it could be like is invaluable.
There are other titles that were reviewed by my fellow Crew members and focus on Ancient Greece, Ancient China, the American West and the Vikings. Check out what they thought by clicking below!