What is Christian Homeschool Hub?
Well Christian Homeschool Hub, or
CHSH-Teach.com,
is a place where homeschoolers can find lots of amazing resources.
For this review I received the
CHSH Download Club
, which is an annual subscription to the whole website.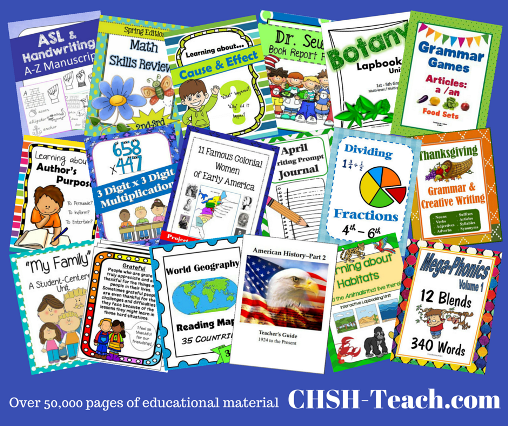 So, let me share with you some of the things you will find on this website.....
First off, on the homepage that comes up each time I sign in, I see a special calendar. This calendar lists important historical events, daily observances and holidays. For example, looking at the September calendar I can see that on September 1st the wreck of the Titanic was found in 1985, and that WWII began in 1939. Having this list of important events is a fun asset to this site.
The bulk of the site are lists and lists of downloads that enhance your homeschooling.
By clicking on 'Search for Downloads', you can see the entire list both by subject and by grade.
Subjects include:
Bible
Languages
Art, Music & Crafts
Language Arts
Math
Science
Social Studies
Electives
Health
When you click on one of the subjects, it brings you to a page that lists all downloads. One great feature for some of the downloads, you can preview them first to see if it is something you are interested in.
Another way to search the site is by month. The topics in this section are based on holidays and seasonal things such as Veteran's Day, Christmas, Hanukkah, and Groundhog Day.
There was lots to see on this website!
I needed to narrow down what we were going to use so first I focused on handwriting and copywork.
I found several copywork pages in the Bible section where there were both print and cursive copywork pages.
Throughout the review period, I had Dasher using these for her handwriting. I liked that they had the entire alphabet in cursive at the top, for quick reference.
For actual handwriting lessons, I found letter tracing and practice sheets for young learners. Nutsy did a few of these, even though she learned her cursive last year.
As I looked through the website I realized that many of the downloads were not just simple worksheets, but whole units of learning. Looking through the subjects I saw health and realized I have never done an elementary level health curriculum with Nutsy.
There was a General Health Curriculum, meant for grades K-5th that I decided to download. That was another thing I appreciated - the grade level was clearly listed.
The General Health Unit was a whopping 184 pages!
There were worksheets and lesson plans for each grade which was very handy.
For her, I chose the 4th and 5th grade lessons. The topics studied were hygiene, anatomy, pituitary gland, human growth, and self esteem. There were worksheets, activity suggestions, and questions to ask your students.
There were also lots of diagrams on human growth and sexual reproduction - none of them were inappropriate but do beware. Nutsy was definitely not ready for some of this, but we did use a few of the worksheets. I also did find that most of the activities were meant for classroom situations and would be harder to do with only one or two students. Overall, we found enough to do in the time we reviewed this (about 4 weeks) but not too much more than that.
I also wanted the girls to do some math pages, so I went to the 'by subject' area and chose some worksheets for them to do. Again, there were not individual worksheets to download, but full units. I chose Roman Numerals, since Nutsy has a hard time with that.
On this page I was happy to see a download for a poster, flashcards, a lapbook and a unit of study. I chose a few worksheets from the unit of study, and through that week we were able to really understand Roman Numerals.
Finally, I did notice that things are being added every day. Just as I was writing this, I saw there were geology flashcards for both volcanoes and earth's layers added today. This site is only going to get bigger, offering even more to the homeschooling community.
So I did like this resource; there were a few times that I felt like it was definitely geared towards more of a classroom setting, but there are many times as homeschoolers that we are teaching in a co op setting. I also found myself having to download units, only to find that it wasn't exactly what I was looking for.
But there is lots more to this site that I didn't really get involved in....there are places to get to know other members and share information on forums, newsletters to your email, there are opportunities for affiliates and giveaways too.
Check out what others thought by clicking below!