{Homeschool Review Crew} ~ Apologia Astronomy
Apologia Educational Ministries ~ http://www.apologia.com/
is one of my favorite elementary science programs. Over the years I have used numerous resources from them, so when I heard that they were coming out with a second edition of their astronomy book, I was thrilled.

Exploring Creation with Astronomy, 2nd Edition
came to my mailbox about 6 weeks ago. My girls opened the package, saw the notebooks, and begged me to start the program that very afternoon.
They recognized the notebooks and had LOVED using them in past Apologia courses.
What It Is and What We Got:
Exploring Creation with Astronomy is a complete elementary science curriculum.
I received: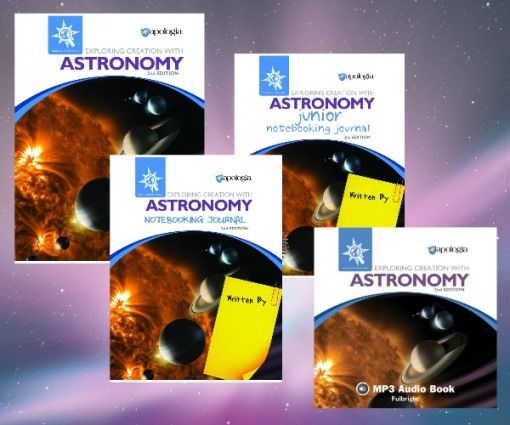 In this curriculum there are fourteen lessons. Each lesson is meant to take 2 weeks for a total of 28 weeks of study. This is perfect for a year of elementary science!
Each lesson focuses on each of the eight planets, plus an introductory unit, the sun, moon, space rocks (comets and asteroids), Kuiper Belt and dwarf planets, with the final chapter focusing in general astronomy (stars, galaxies, and constellations.)
The lessons in the text have between 10 and 17 pages to read. The reading level is appropriate for older elementary ages - for younger learners they can sit and listen to the audio CD or mom reading aloud.
Each lesson has numerous activities. The activities correlate with the activities in the notebooks. For example, in the second lesson there is an activity where students are asked to pretend to be planets and 'rotate' around another student, the sun. There is a spot in both journals where they can write what they did and what they learned.
The activities in both notebooks are similar but with a few differences:
There are pages for facts and reflections.
In the Jr Notebook the lines are a bit bigger for smaller hands.
There are both cursive and print copywork pages, but again the lines are more spaced apart in the Jr. Notebook.
Here is the Notebook for the older kids. Same verse, but thinner lines.
Each notebook has a mini-book for each lesson. These are fun books that you cut out and can glue together.
Dasher is cutting this page out to make vocabulary flaps in the lesson in the sun.
In the mini books, I saw no difference between the Jr. Notebook and the Notebook.
There is also a page to fill out of things you learned beyond the activities suggested and a scrapbook page to glue anything on, or to even draw something on.
At the end of each lessons in the Notebook there are "What Do You Remember?" pages, which ask specific questions about the lesson.
In place of these, there are coloring pages in the Jr. Notebook.
One thing I am very excited about that is new to Apologia Elementary Science Curriculum, is the
Astronomy Science Kit
. This Kit contains all the supplies you need to do the activities in the curriculum. Now don't think that you need this kit to use Apologia - I have been using their science products for years, and this is the first time they have produced a lab kit to accompany their programs. Exploring Creation with Astronomy, 2nd Edition stands on its own as a solid, biblical science curriculum for elementary age students.
So again, I loved this - I do own the Astronomy 1st edition and I must say that I really like the 2nd edition and the changes that were made to it. Each lesson is laid out in a more easy-to-read way, with better graphics and drawings. The format in the 2nd edition is more user friendly and a definite improvement.
And a side note here: my friend and I have decided to use Exploring Creation with Astronomy, 2nd Edition in our co-op this year. She owns the old book so we sat down and looked at the books side by side and decided that they were too different in wordage and format to use both editions in the same co-op, so she opted to purchase the new edition.
A few years ago, I reviewed
Apologia's Exploring Creation with Chemistry and Physics
.
Other members of the Crew reviewed this wonderful science course, check out what they thought by clicking below.