I have one child that really enjoys drawing, so when we were given the opportunity to review products from
ARTistic Pursuits Inc
., I knew Bookworm would be the one to test it out.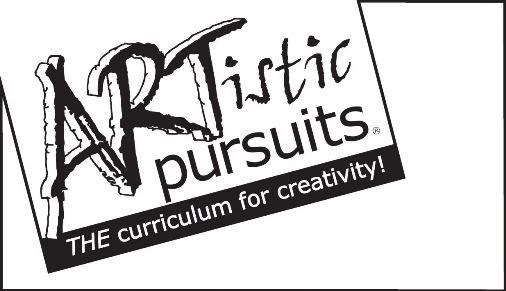 I received
Middle School Book One
, The Elements of Art and Composition. This level, even though it is below Bookworm's grade level, was a great fit for her.
Covered in this book are:
Space and Lines
Shape, Form, and Value
Visual Paths in a Line
Balance, Symmetry, and Asymmetry
Rhythm
Space, With and Without Depth
Perspective and Proportion
The lessons are laid out through sixteen units, that can be covered in a year, with two lessons per week. Each unit focuses on one of the topics that are listed above, with four lessons per unit.
Within each lesson there are four focuses, that remain consistent through the program:
Art Vocabulary - here students are taught how to observe and verbally describe things
Art Appreciation and History - learning from the masters and studying famous works of art
Technique - using tools and materials to create art
Application - a final project in each unit, that incorporates what they learned
The book is actually very user-friendly and easy to read and implement. The book has full pages and is also in color, which is a must for art curriculum! I felt that the assignments were age appropriate to middle grade students - you do not need any experience in art to begin this.
I had Bookworm do two lessons a week. She spent between 30 to 45 minutes each session doing a lesson. Sometimes, during the final lesson where she had a larger project to do, she would spend over an hour working with her drawing. The main focus of this course is drawing, and so the Supply List is not too long.
To complete Middle School Book 1 you will need:
Pencil drawing set
Eraser and sharpener
sandpaper block and drawing pad
waterproof drawing ink
brush
Pen nibs (used in calligraphy) and a pen nib holder
The first couple of units she found very easy, but then she is a junior in high school. Here, she studied
Portrait of the Elephant
by Dal Badal and was made very aware of space in art.
In the third unit, she learned about texture. This is something that she has not done too much of at all, so she did really enjoy this lesson, and felt like she really did learn how to improve her technique.
There were very specific instructions on how to get different texture, and she spent a while experimenting with her pencils. Her project for that unit was to draw a picture that showed a variety of textures so she chose to draw our bird, Ozzie. She did say that she felt challenged but the assignment, and was made aware of how texture can be added with different pencil techniques.
This was her rough sketch - in this assignment she took something from life and made her own sketch.
I also liked how art history was brought into the units. In the unit on shape the students study Hokusai's
Beneath the Wave off Kanagawa.
They learn how shading and dark values help to emphasize the shape of the waves. There is also sections to read about the artist Hokusai, and information about Japanese art and what influenced his work.
The unit on form focused on line direction and creating form. She studied
Man Reading the Bible
by Van Gogh, and as an assignment, was asked to try to copy the sketch.
I love this course and what it did teach her. She is enrolled to take an art class at our local college in September, and I do think that the few weeks she spent doing ARTistic Pursuits really gave her a solid foundation. I do think it is more for middle school students, and I plan on having Dasher, who is more in that age range, do this program for art next year.
Other members of the Crew reviewed other grade levels from ARTistic Pursuits, check out what they thought by clicking below.