It's review time again!
For my first one of the 2016 year I am reviewing a product from
Home School in the Woods
. This company does a great job of doing the legwork in lap books. The lap book I received is
HISTORY Through the Ages Hands-on History Lap-Pak: U.S. Elections.
But first you might ask, what is a lap book? It is basically a file folder that has been turned into a mini presentation board. Your child will write facts, color images, and put items together to create a place to display what they have learned. Instead of wondering about all the things you can put in the file folder, Home School in the Woods has taken out all of the guesswork and created templates for all of the fun little mini items you can add into the folder.
HISTORY Through the Ages goes through the election process and is meant especially for 4th through 8th graders.
The things you will cover in this lap book are:
Different Forms of Government
Political Parties
Specifics on the Presidential Campaign, including Media, Platform, Speaking, and Advertising
Fundraising
Election Day
Inauguration Day
....and much more.
There are a total of 21 topics covered. Each topic has a short section to read, plus directions for the project. The kit comes as a pdf download and includes:
Reading Text Pages - this 13 page text can either be printed on normal paper, or double sided to make a small booklet. In it you have all that you need to answer any questions in the projects.
Lap Book Project Masters - this section has the templates for all 21 projects. You will print off each section for each project and your child will cut, color, glue, and fill in the blanks.
Introduction and Directions - There are a few helpful files in this folder. There is a list of supplies and projects and a section describing how to print off the text booklet. The other two files are the brains of the lap book, and give directions for each and every project in the lapbook, including helpful illustrations. There are also directions for assembling the final lapbook using the file folder, once all projects are completed.
Except for the glue, scissors, tape, and a few fasteners, you have everything you need to make a completed lap book!
My two younger girls worked on this. I could see this as a course to be done in about 12 weeks, so we did one to two projects weekly. I decided to read aloud to them, the section in the text booklet. The reading was not long at all - looking ahead I think the longest section might be two pages. The information was factual and not biased towards any party or political view. The reading level was on the higher side of the age range, so I did read it aloud to them, and paraphrased as needed.
I printed the projects and we would spend a good 20 minutes putting them together. One thing that I appreciated, is that there is writing sprinkled through the projects, but not too much. Dasher has a hard time with writing and the amount they did through the projects were perfect. There are places where you do print off text to go into the projects. This is where you can be very flexible with lapbooks; if I was doing this with Bookworm, I would have asked her to still write in her own words what was being said in the text.
The projects were definitely not silly or too elementary. When I told Dasher that there was cutting involved she kind of shrugged, thinking that cutting was for the younger kids. But the projects intrigued her and she actually spent more time than Nutsy preparing her pages.
We got through the first eight projects. The directions do say to save all of the projects and assemble them into the file folder at the end, but I do wish we had started gluing them into the final file folder at the beginning. It would be a way for my girls to review what they had learned and would give them a sense of progress.
Here is a photo of what ours will look like when we assemble it: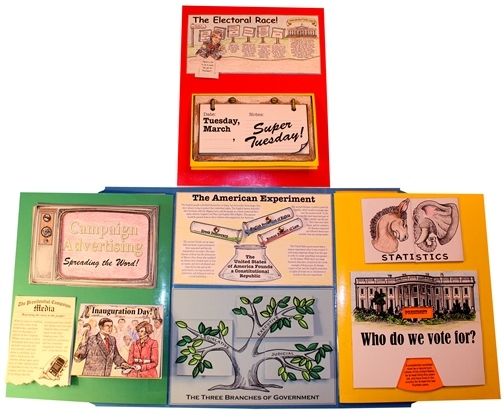 So I did really like this lap book. Instead of having my girls read a book and write in a workbook, they were using their hands, and learning at the same time. This is an excellent way for those students that need more of a tactile learning style and makes learning about elections fun.
Check out what other Crew members thought by clicking below.