{Homeschool Product Review} ~ Thin Stix
I love it when we can review fun, artsy things. And
Thin Stix Creativity Pack
from
The Pencil Grip, Inc
. gave us a fun treat to check out.

These things look like pens but they are not just ordinary pens. They are pens of solid tempura paint. This makes painting lots of fun with NO mess. Think about it, if you have paint inside of a pen, there are no brushes, no water cups (that can spill) and paint that is the perfect consistency.
I received 24 different colors:
12 classic colors
6 metalix colors, like gold, silver, and magenta
6 neon colors, orange, green, and pink

These pens act just like paint. And they can also paint on different surfaces as well. Not just paper and cardboard, but poster boards and even wood as well. The lids are easy to get on and off but beware - these will dry out so keep the lids on.
The paint comes out smooth without any bumps. And it does dry pretty quickly - the box says it dries in 90 seconds but we found it dried even faster. And for those with very sensitive allergies, this product is egg, peanut, and gluten free.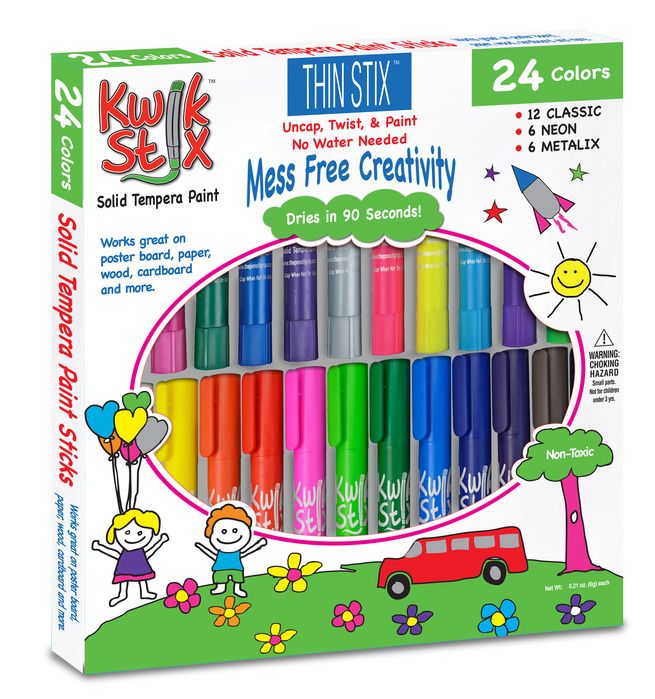 My girls we very excited to open this up and start playing with it. They adapted pretty well to the pens, and had fun experimenting with them.


Dasher worked with blending the different colors and created this masterpiece.
As they used the pens, the level of the paint stick went down. But this is easy to fix - like any pen, you twist the end and the stick comes up.
Nutsy used the edges of different pens and gave a bit of texture to the tree for a great fall leaf look.
And she also used the metallic white on the mountains instead of just leaving the paper blank. We found that the metallic paints were especially fun, and added neat coloring to the paintings.
In 4-H we often make poster boards, for fundraising or club meetings, and these are totally perfect for this. Instead of coloring with markers, painting the poster boards adds so much more character to them, and doing it with Thin Stix is SO easy.
A couple of times Dasher did say that she wished the pens also came in thinner sticks - she felt she could have done more detail with a smaller stick. But we did have lots of fun with these! And they are perfect for younger kiddos too. They are thick enough to grip and handle and the colors are lots of fun too.
And right now these are available at
BJ's Wholesale
for the discounted price of $19.99 (regularly priced for $24.99 at the time of this review.)
Other reviewers also used this product - check out what they thought by clicking below.