Reading is one of the most rewarding subjects to teach. And so when I received a 6 month subscription to
Reading Eggs
, I was thrilled. They are also running a special promotion right now, you can get a
free 4 week trial
, good through the end of November.
I knew Nutsy would love to brush up on her reading skills so for the last few weeks she has been working in this program.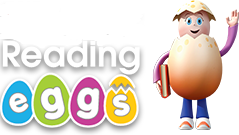 This online learning program has 4 different parts to it:
Reading Eggs Junior (ages 2-4)
Reading Eggs (ages 4-7)
Reading Eggspress (ages 7-13)
MathSeeds (ages 3-9)
Complete reading learning all the way through the elementary grades!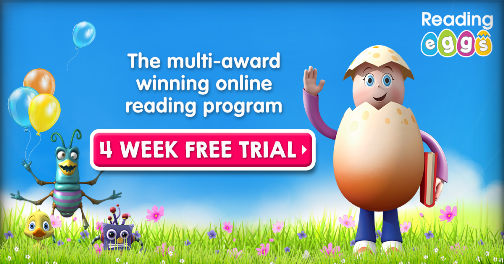 For this review I primarily focused on the Reading Eggspress portion of the website, but I did look over other parts as well.
Reading Eggspress focuses on reading comprehension and vocabulary. To begin, your student will take a placement test. This only takes a few minutes and did accurately place Nutsy into the lessons.
In each lesson, there is a emphasis on understanding the content of what you read, and using "think marks" to identify places in the text that might be harder to understand. These spots are then used to teach new vocabulary words to the student.
After the three or four vocabulary words are defined (with photos, which SO helps teach concepts!), there are a couple of fun interactive activities to review the words.
Here, Nutsy learned about the words umpire, racket and rhymes. She is dragging the correct word to the right sentence.
Another focus in these lessons is reading comprehension. Attention is given to finding the main idea. In each lesson there is a teaching period, where the program actually teaches the concept audibly.
Here, she is learning about finding the main ideas in a paragraph by identifying repetitive words.
In each lesson there are also parts of stories that the student reads, with comprehension quizzes at the end. We ended up completing about 3 lessons a week, working on each lesson for about 20-35 minutes.
But there is much more to Reading Eggs than reading lessons! Another fun part of Reading Eggspress was English Skills, or Spelling. Here, she was given a list of words, and then led through activities that helped her learn to spell them. Many of these were proofreading type exercises.
Here, she is choosing which word in the sentence is misspelled, and then re-spelling it correctly.
Here she is choosing the correct spelling of the word 'he'.
I loved it that she learned backwards and forwards - I am meaning that not only did she have to choose the correctly spelled word, but she also had to find the misspelled word and then correctly spell it.
And there are spelling tests of course....
How do they do spelling tests online? Well, on each line there is an icon that the student clicks on, and then the spelling word is said for the student to then write in the blank.
Nutsy is already reading at the 3rd to 4th grade level so I did not check out the younger reading parts of this website, but I did look at MathSeeds. For fun, Nutsy did the placement test. There were only two allowed incorrect answers in the test and she did get confused a couple of times so was placed in a low level. We watched a whole lesson together - these are perfect for younger children (Exactly what is suggested on the website - ages 3-9) and used fun animation to teach the math lessons.
Another area of the website that Nutsy liked was the library. You can choose a book from different subject areas - plants, animals, dramas, fairy tales, adventure, and so much more. The books are divided into sections, with each section of a book having a quiz to take when the student is finished reading that portionr.
So what did I think? I really liked the Reading Eggspress part of the website. Nutsy felt like it captivated her enough and really helped her with reading comprehension. Every now and then she did come upon a word that she needed help with, but for the most part the placement test was accurate. And I liked that the focus was on reading comprehension - state tests have whole sections that are testing comprehension so this is a great thing for our students to understand.
I also received weekly email reports of her progress, so I could see exactly where she was in the lessons, what she was struggling with, and what she was getting on quizzes and tests. There is also a parent teacher section where you can see their progress, print off worksheets for your child to do, and also read more about the elements of Reading Eggs.
And Reading Eggs has something especially for homeschoolers that was just released: a Program Guide for grades K-2! This guide gives a 36 week sequence in all the core subjects: math, language arts, science, and social studies and guides you through the entire year.
Nutsy was definitely on the older side of this product but many other homeschoolers with younger kids reviewed this online reading and math program - check out what they thought by clicking below.