{Homeschool Product Review} ~ Home School in the Woods
I love companies that offer hands on learning. So when I had the opportunity to review another product from
Home School in the Woods
I was very excited.
I received an
Activity-Pak
that was on
Composers
. Activity-Paks are topical, and include templates to make lapbooks. If you have never heard of lapbooks before, let me tell you, my kids LOVE them. They are made out of file folders and are put together by your child as you learn facts about different topics. You can fill these folders with anything, but Home School in the Woods makes it very easy with their downloadable templates. Currently, Home School in the Woods has four other Activity-Paks: Artists. Old Testament, New Testament, and Make-A State; which includes templates to make a lapbook for each of the 50 states.
What We Received:
I received a download of the Activity-Pak Composers. This had everything needed to create a lapbook on different composers.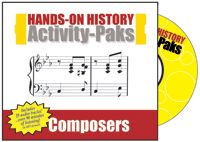 The topics covered in this study are:
Periods of Music
Keyboard Vocabulary
Collection of Composers
Composers Timeline
Pieces with a Purpose
Music Appreciation
There are two additional topics that don't fit into the lapbook but are hands-on, activity projects:
The Orchestra
Composer Cards



Check out all that you get in the photo below:
There are 42 composers that your child will learn about, all from different music periods. And my favorite part of this Activity-Pak? There are 29 music files that you can listen to as well! So you can not only do activities and learn more about composers, but also listen to their works they have composed.
Included with your download is an Introduction page and a resource page for further study. Each topic has the downloadable templates, plus an instruction page that shows how to assemble it. And there is a file that contains the completed lapbook, so you can see how the whole things fits together.
How We Used This and What We Thought:
You can go in any order with this Activity-Pak, so let the girls choose which one to start with. Nutsy has been taking violin lessons this last year and so she decided to start with Keyboard Vocabulary.
Keyboard Vocabulary is not just vocabulary about keyboards, it is truly music vocabulary. The girls cut out all of the pieces using the instruction page,
and assembled it all on their own
. One of the amazing things about kids getting older is that they can do things without my instruction!
As they cut, they read the definitions and words out loud. The words are also listed on the definition sheet - It would have been neat if the words were not on there, and the girls could have tried to figure out which went with which word. But they still learned lots about music terms while creating this lapbook component.
This turned out to be Nutsy's favorite activity. We had the goal of doing one topic per week and so the girls took turns choosing which one we did each week.
Dasher's favorite activity was The Orchestra. For this topic, they cut out each instrument that are in the typical orchestra. There are also tiny pockets to cut out and glue together also. Again, these girls did this all on their own.
At the bottom of each instrument is a short description of the instrument.
After they assembled it, I read through each description with them. For fun, we then pushed all of the instruments down into their pockets so the descriptions were hidden. I would then pick random instruments and they had to give me one fact they had learned about that instrument.
When we did the section on Periods in Music the girls made booklets that described the seven music periods. That week we listened to different pieces from each period. It was very interesting to hear music progress from the Middle Ages all the way to Modern. In the Music Appreciation topic, we listened to different pieces and then they filled out a sheet that had space for the composer, time period, and facts. There was also a place to draw a picture of what you thought of when you heard the music.
All in all we really enjoyed putting these things together, and I feel that the girls learned a lot!
I have reviewed other products from Home School in the Woods before. Specifically I have reviewed products from their
Lap-Paks series
including
Great Empires
and
US Elections
. When we got this Activity-Pak though, I realized it is slightly different from the Lap-Paks. The Lap-Paks include text to read as you progress through the activities, while Activity-Paks do not. To help fill this gap there is a suggested resource page that has many wonderful suggestions for books that you can read as you complete these activities. When I realized this, I remembered that we had a children's biography of Bach, and so as the girls cut out and assembled their lapbooks, I would read to them from the book. Activity-Paks go along perfectly with read alouds, and they compliment each other nicely. Home School in the Woods give you hands-on learning activities and makes an ordinary book become that much more interesting.
Another product that Home School in the Woods offers is something called their
Timeline Trio
. This is a 12x9 binder that holds all of time inside! They also offer Timeline figures that can be added as you learn about them. I LOVE timelines and for years had one that went up our stairway. But people used to brush up against it and it got pretty worn. How cool that Home School in the Woods has figured out how to put it into a nice binder fro reference.
Another new thing that Home School in the Woods is doing is their brand new
A-La-Carte
projects. These are shorter activities and games that are based on so many topics.... World War II, Greek Life, The Erie Canal, US States .....currently there are 50 projects with plans to do hundreds more. These are all downloadable, and at the time of this writing, many were under $5 each.
I really encourage you to check out Home School in the Woods, especially their A-La-Carte section. There you can pick and choose hand-on activities that will make your schooling so much more fun. Other members of The Crew reviewed products from this company, check out what they thought by clicking below.