Online education is definitely a part of our education. I appreciate it because it can cater to many different learning styles and sometimes, does a better job of explaining things than I can. So when Educeri came up for review I decided to try it out with my girls.
Educeri ....... Educeri a division of DataWORKS
was generous and gave me the
Educeri Lesson Subscription Service.
This is twelve months of access to the plethora of lessons on this educational website.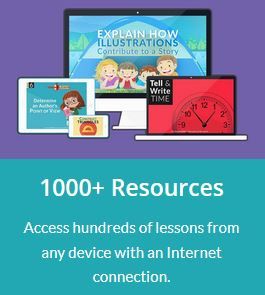 What It Is:
Educeri is an online learning resource. There are lessons for grades K -12 in:
Math (grades K-12)
Language Arts (grades K-12)
Science (grades 7-12)
History (grades 5th-12)
I spent some time one afternoon a few weeks ago, looking through the site. Right away I noticed that this program is not intended to be a complete curriculum, but rather supplement these subjects. The site is very easy to navigate. You can see all topics in each subject, or see each subject by grade.
To view a lesson you simply click on it and begin. The lessons are set up like a power point presentation. You click the forward button with your mouse which leads you through the lesson. There is usually some short sentences to read at the top, and then as you continue to click the mouse, the problem is solved step by step.
Here is the lesson on subtracting whole numbers. The first screen is shown below.
Then, with each click of the mouse, a step of the problem is solved.
There are marker tools that you can select - a pen, highlighter, and eraser. All three are controlled by the mouse which means you can really only circle or highlight things - it is too awkward to actually solve problems on the screen. There is also no audio in the lessons - you or your child must read the words to understand how to solve correctly.
I found the lessons to be very detailed. These are aligned with common core and so the objectives and codes for common code are listed throughout the lesson. I do struggle with some concepts of common core but the lessons we chose were not difficult to teach and I did understand *how* they were teaching the concepts.
I also realized as we moved through some lessons that these were meant more for the teacher, and to be used as a way to show the how of teaching concepts. I actually really appreciated that. You know those times when you are explaining how to solve something, and your child is just not understanding the concept? This resource is perfect for those situations, and gives you another way to explain the problem.
How We Used This And What We Thought:
It is no secret that I don't like math, so I planned to use this as we came upon math issues in our current curriculum.
Of course that first week we had some issues with addition and regrouping.
I watched the lesson, and while it really didn't give me any new ways of teaching, it did show with blocks how all of the ones can come together and make a ten in the ones column. I sat with Nutsy and we watched a few problems.
Even though I have used manipulatives in the past, watching this did make sense to her and helped her with the concept.
Some of the lessons have printable worksheets. After we watched the lesson, I printed some off for her. Be aware, the answers are not included in the downloadable worksheets.
We also watched a lesson together on telling time.
When the lesson was showing 1:00 and 1:30, the hands actually moved around the clock from 1:00-1:30, and didn't just skip. This was helpful for her in understanding real time.
I went ahead and looked at some of the other topics in Educeri.
Dasher and I did a lesson on state capitals. I liked how they reviewed and moved through the lesson.
I will say that this was where I really did wish that the student could fill in the blank, or at least drag a capital name into the correct space. She lost interest pretty quickly because it was just clicking, clicking, and watching the lesson progress. I did have her say the capital that was coming next, but she really wanted to be able to write in the answers. This lesson was one of the few that did not have printable worksheets.
I also had Bookworm do some algebra problems.
This was where I think the program helped us the most. It was easy for her to choose a topic she was struggling with, and then watch the lesson.
She would have been annoyed if it was an audio program, and liked the way it showed the solution.
So I liked aspects of this program but then other parts I didn't care for. For younger children, this is definitely not a thing you are going to let them do on their own - you do need to be there watching with them. And it can be frustrating for them when they are unable to fill in the answers on their won, but instead click the mouse and see them appear.
But my older daughter really liked the way this program worked. Especially in math, she does well when she sees step by step instructions, and this program definitely delivered this.
I was amazed by the depth of topics, especially in the high school levels. Some of which included analyzing literature, cellular respiration, analyzing the Greek Awakenings, and the life cycle of stars. This program is meant for classroom teaching so some of the resources for teachers are not applicable, but there is still some good information on there.
I do see us using this site when we come upon issues in our schooling, and I also plan to have Bookworm look through some of the language art lessons.
check out what other Crew members thought by clicking below!