{Schoolhouse Review} ~ Poetry Memorization
Memorization is a very important skill to acquire. So I was pretty excited when I was chosen to review
Linguistic Development through Poetry Memorization
from
Institute for Excellence in Writing.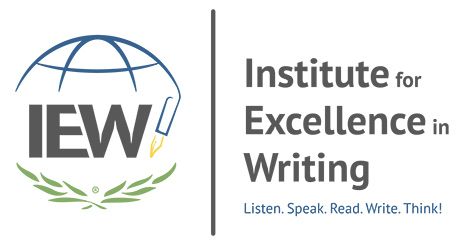 The product comes in a kit and includes:
Teacher Manual, spiral bound: This book has 20 pages of introduction that explain the methodology and scope and sequence of the entire program. Each poem is also included.
Five audio CD's of all the poems in the entire program, being read aloud by Mr. Andrew Pudewa himself.
DVD - Nurturing Competent Communicators: This helpful DVD shows how needed this skill is, and how poetry memory can help with both communicating and writing skills.
Seven Workshops, available as an audio downloadable M3P:

Nurturing Competent Communicators (The above DVD in audio form)
Mastery Learning, Ability Development, and Individualized Education
Ten Thousand and Then Begins Understanding
On Listening
On Speaking
On Reading
On Writing

Student e-book: Each poem listed for the student to visually see and to aid in memorization.
IEW was very generous and also sent me the physical
student book
for our use.
If you know anything about IEW, you know you don't just begin to use their products the same day that the package arrives. I love this about IEW - you do need a solid understanding of the product and how to teach it, so they do include many teacher-helps that aid you in understanding not only the how but the why.
So first, I watched the DVD and also looked through the Teacher Manual to get a feel for the program.
In this product are five different levels, but it is highly suggested that all students begin with Level 1. Each day that you do poetry memorization, you listen to the audio CD and recite the poems together. I loved it that each and every poem begins with the title and the name of the author.
The great thing about this program is that students can move at their own pace. Older students will move more quickly through the poems than younger ones, but they can all recite the ones they know. And while the older ones are reciting their poems, the younger ones are listening in. Some of the poems, especially in the higher levels, are larger pieces, with multiple stanzas. Each stanza should be memorized in full before moving on to the next section.
The part of this program I liked the most was the repetition. The goal is to recite each poem that the student knows, each day. There is also emphasis, though not a focus, on delivery. The goal is to train the brain to memorize, but not always focus on speaking skills. After a level is completed, the next level is begun, but now the reviewing occurs every other day, to facilitate review of the current level. Each level has twenty poems.
I had my two youngest use this the last few weeks. Each day we would spend between ten and fifteen minutes on poetry. We would listen to the poem we were working on, and read along and recite it with Mr. Pudewa. After a good five minutes, each girl would see how far they could get with that poem without help. Then we would spend the rest of the time reviewing what we had learned.
I was actually pretty impressed with how far they got. The first four poems are not hard at all and the girls breezed through them in a little over a week. This brought with it a good observation: Any kind of memorization is good, but poetry memorization is even better, because of the rhyme and rhythm of the words. This was especially true of Dasher, who really ate this up and was on high speed memorization. This surprises me, because she does struggle with reading, but listening to the audio version was key for her and she really grasped the memorization technique.
At the end of the second week we hit poem five, with its four stanzas. This is where they began to split up and Dasher moved ahead on her own. Again, this program is ideal for teaching memorization to multiple age levels.
The poems do not get longer as the program progresses; after the longer poem, we had a nice, short, 4-line poem. This really helped Nutsy, because she was quite intimidated with the longer passages.
I looked ahead to the other levels and noticed that it does increase in vocabulary and length. I was happy to see, among many others:
The Charge of the Light Brigade
by Tennyson,
The Road Not Taken
by Frost, and
Grandfather's Clock
by Henry Clay Work. Level 5 is quite impressive, and includes speeches such as Give Me Liberty by Patrick Henry, The Gettysburg Address by Lincoln, and The Kings Speech by King George VI. In this level, there were also margin notes on pronunciation and word definition.
I was quite convinced that poetry memorization can help my students. Over the weeks we used this program, I also saw a love for poetry come out for my children. And I do believe that memorization can help them in other areas of academics.
Other members of The Crew reviewed this; check out what they thought by clicking below.