I have always taught history chronologically, and right now we are just beginning the Renaissance in our homeschooling co-op. Bookworm will be entering her last year of high school next year and I really wanted her to get more of a focus on American History, so when
U. S. History Detective, Book 1
from
The Critical Thinking Co.
came up for review, I was quite excited.

What It Is:
This consumable workbook, meant for 8th through 12 graders, goes from the Colonial Era (1713) up to the Reconstruction Era (1850's). This period of time is divided into 9 sections. Within each section are lessons; in the book there are 65 lessons. Each lesson follows the same format. First, there are two or three pages of text reading. The text is appropriate for high school reading level. There are also maps, photos, and images of the time period.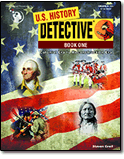 Next are some review questions. These are mostly multiple choice or one sentence answers. And finally there is a written response question; this question requires more of an essay-type answer. These questions are thought provoking and cause the student to looks at the reasons behind historical events. There are also fun facts sprinkled throughout the text, which are interesting to read.
At the end of each section is a short review. These can be matching questions, map reviews, and vocabulary worksheets. There are also bonus activities every fifteen lessons or so; these can be short question-answer pages, or go into further depth, such as analyzing political cartoons. The answers to all questions are conveniently in the back of the book.
How We Used This:
Bookworm is in 11th grade, so we are definitely stepping it up this year. I had her complete 3 lessons a week during this review period. At this pace we will be able to finish the book this year. She spent time reading the text and answering the questions. Her favorite part was actually the written response questions. She really liked how they drew ideas out of the history lesson. In one of the response questions she needed to study a well known painting protesting British taxes, and then she was asked to analyze different symbols that she saw in the painting.
She also liked one of the bonus activities; she was asked to fill in a chart with the cause and effects of the Revolutionary Era. She would spend at least a half hour to 45 minutes doing this the three days each week, so I would definitely count it as a credit of high school history.
What We Thought:
I really liked the scope of the book. By spending an entire year in about 150 years of America's history, you would really be able to study historical events in depth. This book could also be used as a resource for other history programs; the questions given are simple, yet would encourage older students to see the
why
behind our history. And I could definitely see expanding some of the written response questions into five paragraph essays.
I think this would perfectly round out our last years of high school. I do plan on having her complete this book, and then next year, I am hoping they will release U. S. History Detective Book 2.
Other members of The Crew reviewed other product from Critical Thinking Co; see what they thought by clicking below.