{Schoolhouse Review} ~ Standard Deviants Accelerate
Online learning is such a help to a homeschooling mom. Especially one who has high school students. So I was intrigued to review
Standard Deviants Accelerate
and their
Homeschool Courses
.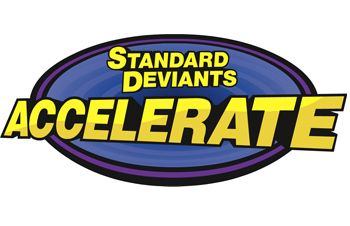 What It Is:
This is an online program that has different courses for students. There are many to choose from including:
Earth Science (Grade 6 and up)
Nutrition (Grade 6 and up)
Biology & Chemistry
Arithmetic & Fundamental Math (Grade 3 and up)
English Composition (High School)
Test Prep for AP Classes, including Biology, Chemistry, Government and Politics, History, and English Composition
I planned on having Bookworm work through a few of the AP classes and I myself took a peek at some others.
These courses are all video based and split into lessons. The non-AP classes all follow a similar format. First there is a video lesson to watch. A cast of characters leads you through the lessons. Students are encouraged to take notes; either with paper or pen, or directly in a text box on the screen.
There are vocabulary words, which are defined on a vocabulary page. This is especially helpful for younger students, and is a perfect copywork activity. With each lesson there is also an activity to do; this usually entailed questions about the lesson that are then dropped and dragged into the correct place. And finally, each lesson has a quiz to take as well.
Another great feature is that you can also choose to print out the transcript of the video. This makes it easy to review the material.
Standard Deviants Accelerate also keeps track of your students grades, so it is easy to see exactly where they are in the course.
The AP Classes are laid out a bit differently. These classes are meant to help high school students prepare for the AP test.
First there is an introduction to the test and what you can expect it to consist of. Next the Free Response, or essay type questions are covered. There are many helpful tips on how to organize your answer so that it conveys the answer to the question that is being asked on the test.
The next part is the meat of this test prep class and is divided into two 30-minutes sections. Basically, it goes through all the main points that you learned in your high school class, and reviews them in preparation for the test.
There are a few activities at the end to help you remember all you were taught. These include a group discussion and different suggestions for preparing a presentation. There is also a final quiz and test to take as well.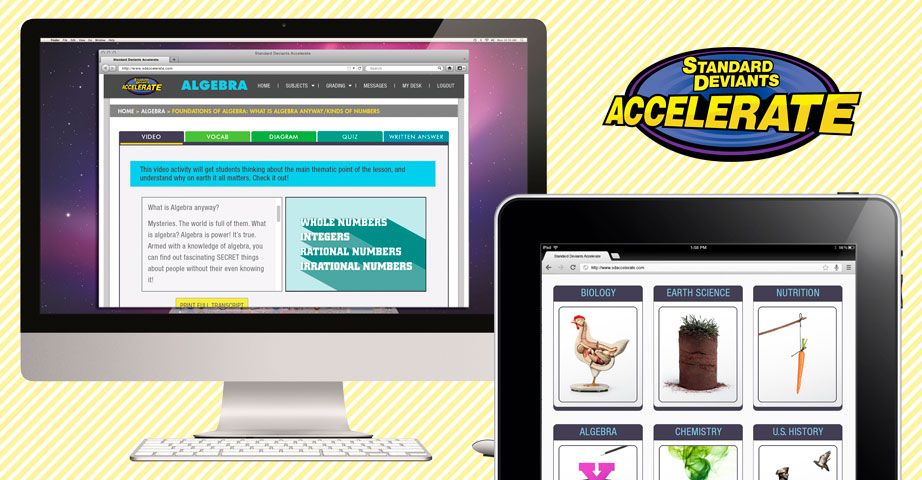 How We Used This and What We Thought:
Bookworm has done Biology, Chemistry, and US History in the last couple of years, so I had her spend time going through those three AP Test Prep Classes. She found the narrative to be engaging, and at times humorous, which helped all of that information being reviewed to go down easier.
She did take notes while she was listening. I really liked that she could just type away in the text box, and then print all her notes to study from. She felt that the course did a great job of over-viewing these subjects. It had been two years since we learned Chemistry in our co-op class, and this short course was a perfect test preparation help for her. With all of the work that one class takes, I could see a high school student spending a week or two with Standard Deviants Accelerate, preparing to take the AP exam.
While we don't have any testing in her near future, I appreciated the review of material that this program gave her, and will use it as a reference in the future.
Members of The Crew reviewed other sections of the website; click below to see what they thought.