Earlier this year I was given the privilege of reviewing some amazing hair and skin care. So when the opportunity came up to once again review some more wonderful products from
Koru Naturals
, I jumped at the chance.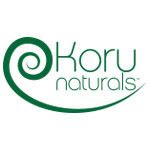 Koru Naturals
sent me three lovely items:
Skin Clear Cream
Manuka Honey Propolis Soap
Emu Oil and Blue Tansy Oil Cream
I'll talk about each of them in turn, but first a little about Koru Naturals.
Koru Naturals uses products that are indigenous to New Zealand, including Emu oil, Manuka oil, rosehips, tea tree, and Rotorua Mud. All of these elements used in different combinations help skin, hair, and common ailments.
There are so many products that Koru Naturals carries - everything from oil blends, lip and skin care, fragrances, candles, hair care, and much more.
The first item I opened up was Skin Clear Cream.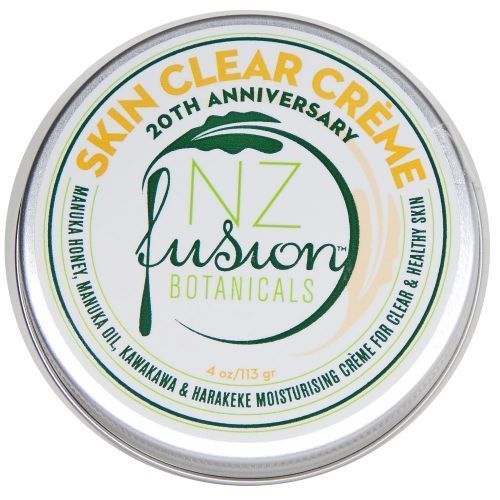 The two basic ingredients are raw Manuka Honey and steam distilled East Cape Manuka Oil. It also contains burdock root, which is known to help skin conditions\; and thyme, a natural anti-inflammatory extract. You can see the entire list of
natural ingredients in Skin Clear Cream here.
This cream improves the damage done from acne and is an excellent moisturizer. It has a very subtle odor that not an added fragrance but rather the lovely combination of the ingredients.
The suggested use is to apply it to your face twice a day. I began to use this about four weeks ago and have pretty faithfully used it both morning and night. I have been very happy with how moist my face feels. I live in the northern central valley in California, where we are notoriously dry and I have struggled with dry skin in the past. But each morning I was pleased to wake up with a nicely moisturized face! After my morning face wash I re-applied the cream and was very pleased with how moist my face stayed through the day. And I have used this consistently, and the jar seems like it has barely been used.
The second item I received was the Manuka Honey Propolis Soap.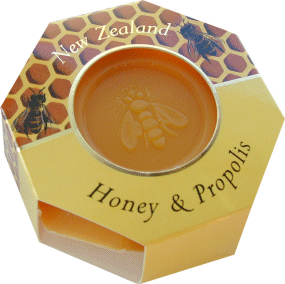 This almost 5 ounce bar of soap contains Manuka Honey and Propolis. Manuka Honey has anti-bacterial properties and can help wounds heal faster. Propolis is the the substance that bees use to seal their honeycombs, and it's known to help fight infection and boost the immune system.
As soon as I unwrapped the soap, I put it in the shower to use each day. The sweet honey smell is very soothing, and the soap lathers up nicely. Both my husband and I used this soap for the last month and I swear, the bar is not any smaller. Seriously, this bar is going to last us six months! My skin does feel more moist after use and there isn't any residue on my skin.
Finally, I received the Emu Oil and Blue Tansy Oil Cream. This 4 ounce topical cream contains Emu Oil, Blue Tansy Oil, Arnica Extract, Aloe Vera, and more natural ingredients. You can see the
entire ingredients list of the cream here.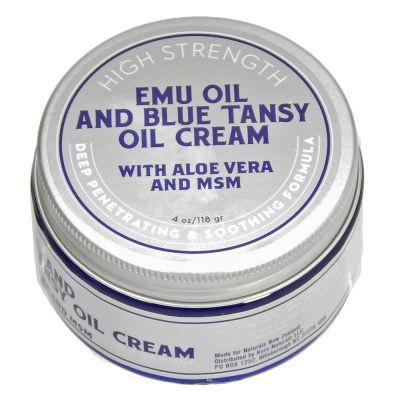 This oil is very good for minor pains and aches. When I got my Koru Naturals package, I didn't have any aches or pains, and almost wanted to go get a bruise or something so I could try it out. I didn't have to wait long, and slept wrong one night and woke with a kinked neck and shoulder. I applied the soft cream a few times a day, and my neck felt better after a few days. I also wrenched my pinky finger the following week and used the Oil Cream on my finger as well. My kids have bruises and soreness (we play hard a lot) and so they got used to me bugging them to apply this product.
The scent is a lovely herbal scent that reminds me of mint, cinnamon, and lemon. Very soothing and yet at the same time, seems to wake up the muscles.
Koru Naturals has high quality, natural products, that helps your whole body feel rejuvenated. My family has benefited from these amazing products over the last month. I know I will definitely order the Manuka Honey Soap and the Skin Clear Cream when I run out. I love knowing that what I put on my skin is not only helpful for it, but natural too.
Other members received hair and facial products; check out what they thought by clicking below.