You would think that with all the reviewing I do I would be familiar with most companies and what they offer. But I am always surprised at all the amazing resources that are out there. And I was very happy to review the
Institute for Excellence in Writing's
Resource Set.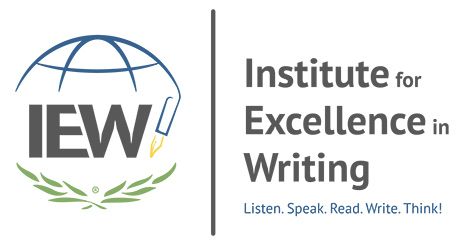 The Resource set has three components to it:
Timeline of Classics
Teaching With Games Set
A Word Write Now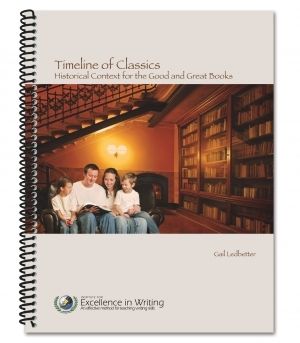 Timeline of Classics
is a resource for both teachers and students. Basically it is a list of great books in timeline form. But this is way more than just a list. Each book has a short description of what is covered, including the time period or event. The title and author are listed, and then the reading level of the book is also given: E for elementary, M for middle school, and H for high school.
The book is divided into four periods of history:
Ancients (5,000 BC to AD 400)
The Middle Ages (AD 400 to 1450)
Renaissance and Reformation (1450 to1850)
The Modern World (1850 to present)
Within these four sections are sub sections so all books pertaining to a certain civilization or event are grouped together. For example, in the Middle Ages there are sections on the Vikings, European Military Expansion, The Crusades, and The Renaissance Period in Italy.
Each page of this resource lists between 15 and 20 books, and with 87 pages of lists, there are plenty of good sources to read from. And not only are books categorized here, but also films and plays are a part of this list as well.
We are learning about explorers in our weekly co-op class. Bookworm reads a high school text as part of her work and so I needed to find a book for the younger two to read. I turned to the European Exploration and Colonization page. I found books on Columbus and Magellan that were perfect for them. Many of these books are primary sources; books that are either ship logs, personal journals, or autobiographies.
I appreciated that a date is listed with each book. And there is space to makes notes in the margin; I could see high school students using this to keep track of books they had read. There are also good quotes throughout the book and I found those to be inspirational as well. This is truly a wonderful resource! At a glance I can plan out literature lists for my kids to read that correspond with our history study.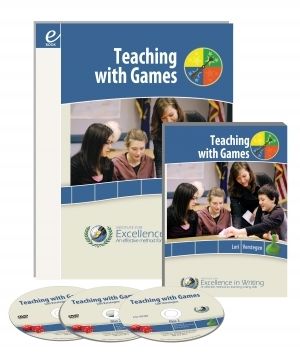 The Title of
Teaching With Games
really caught my eye, and was the one resource in this set that I was most excited about. One of my children learns best when she has objects or things she can touch, so we play games a lot when we school. But my imagination can only go so far, so that was where this resource was an amazing help to our schooling.
The games are divided into groups; which include "No-Prep" Games, Matching Card Games, Question Games, Math Facts Games, and "Make As You Teach" Games.
Each game is described, with the game object, how to create the game, and then how to play and win. There are also different variations and ways that can make the game more fun. Each game also has at least one sample that you can also use. But what makes this book such an excellent resource is that you are shown how to create games for all areas of study. Learning about the Kings of England? Then a fact matching game would be good. Or studying about planets? Then a variation on tic-tac-toe can be adapted to learn planet facts.
We played a few of these games over the review period. Looking through the book, my eye was immediately drawn to Time Bingo. Nutsy is learning time to the five minutes in math, so playing this game was perfect for her. I made copies and cut out all of the cards.
Part of the game is making your bingo card, so that was Nutsy's job.
I also had a board; Bingo is not fun with only one player. We took turns turning over the cards, and then matching them to our boards.
Instead of just filling out a worksheet, we played this game and I do feel that she learned the concept more thoroughly.
Some of you might know, but I do use IEW's Student Writing Intensive Series with my co-op classes. I was very happily surprised to find cards and games that are adapted to teaching concepts from their writing program.
A DVD set also comes with Teaching With Games; two DVD's are a recorded Teaching With Games workshop led by the author, Lori Verstegen. The third disc contains an e-book version of the hard copy and bonus materials; more games ideas that go along with Student Writing Intensive!
I really enjoyed thinking of fun ideas and ways that I can now incorporate games into our learning. And this book gave me so many great ideas and game templates.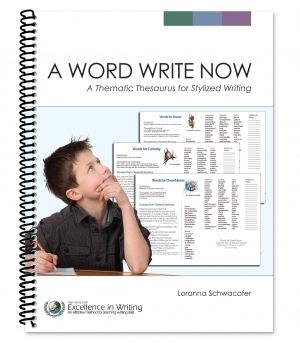 Finally, I also received
A Word Write Now
. This resource is basically a thesaurus that is based on certain themes. There are four sections: Character Traits, Descriptive Words, Words for Movement and Senses, and an Appendix.
There are 23 character traits listed. On each two page spread is the definition, quotes that exemplify the trait, a couple of excerpts from classical literature and then lists of synonyms; categorized by parts of speech.
In the Descriptive Words section there are extensive lists. For example on the pages on describing color there are lists to describe different colors (i.e. red=brick, burgundy, ruby, etc.) attributes of color, values of color, and words for light. There are also tips and warnings about traps you can easily fall into.
Movement and Senses follows the same format as Descriptive Words. Moving feet, hands, hearing and seeing are only some of the words that are covered.
The final section is the Appendix. There are game ideas, a list of prepositions, literary genre lists, and a glossary of literary words. The amount of information in this book is vast! This resource has been a huge help to my writers. I love it that the lists are divided up by parts of speech. I also loved it that there are blanks lines on every page, for you to also add your own.
This Resource Set is priceless. All three of these books should be in every homeschool household. They will add spice to your subjects, give ideas to you and your students, and can give a breath of fresh air into your scheduling.
Other members of the Crew also reviewed these books, plus Phonetic Zoo Spelling Levels; check out what they thought by clicking below.