I love geography.
And knowing the states and their locations is something I want to pass onto my children. So when I was given the opportunity to review a geography program from
Brookdale House
, I got quite excited.

What It Is:
I was given
Drawing Around the World: USA
, a digital geography drawing curriculum. This came as a download and opened with Adobe Reader.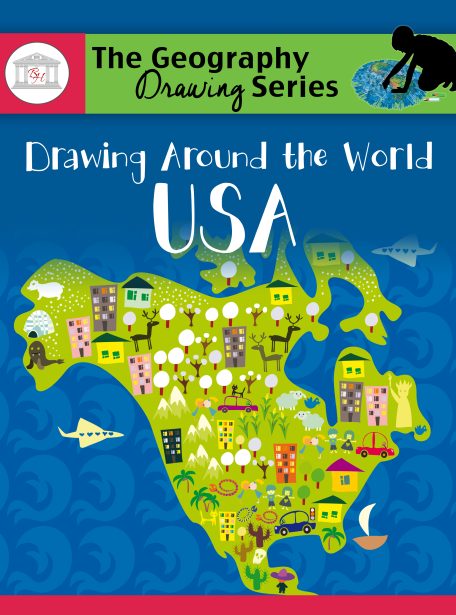 Based on Charlotte Mason's principles, this course will teach your students the location of each of the 50 states. There are 4 steps you should complete each week:
Step 1: Study the new state by completing the state worksheet. Information includes area, population, date of statehood, state bird, state flower, and industry. Your student will also review previously learned states.
Step 2: Locate and label all states that have been learned on the template map and trace.
Step 3: Locate and label all states that have been learned on the template map and trace. (Yes, you repeat Step 2. Repetition is a big part of this program.)
Step 4: List all states and capitals learned from memory and draw them on the blank map.
Very simple.
Each week, one to three states are introduced.The pace is excellent; the first six weeks you only learn nine states. The states are also learned in order from east to west, beginning with Maine. This makes the drawing part much easier. If you know where Maine is then it is easy to point out New Hampshire and Vermont.
The curriculum is 292 pages in length, and comes with the pages necessary for each week.The course is laid out by week, which makes the scheduling very easy. This course, if followed, would take 27 weeks to complete.
The course also provides some handy tips.
First, there are additional memorization techniques. These tips are especially helpful for younger ones that might have trouble memorizing. One tip is to use colored pencils for the states; this is especially helpful for all of those tiny states in the northeast.
There are also a couple of online links that are useful for filling out the state worksheet. I was very glad they included these links, which made it easy to find the information about each individual state.
How We Used This And What We Thought:
I had Nutsy do this course. On the first day we would sit and do state research. I found the websites very helpful and informative. This was also a good way for her to begin learning how to research online. In the worksheet is a place to draw the state; this was a little tricky for her, but she got the hang of it. On the review days she loved filling in the states she knew. I had her label each state with its postal code.
On the fourth day, I had her verbally tell me the capitals for each of the states she had learned, and then she would draw all learned states on an unmarked map.
Learning the states in geographical order was key. If we had been learning them alphabetically as most people do, the drawing part of this program would not have worked. Since she was tracing each of the learned states four days a week, she actually got pretty good at the state shapes, and was able to identify not only their correct location, but shape as well.
This program is very complete; not only is your child learning the state location but they are also memorizing the capital and can draw the shape. By the end of this geography program your child can take a blank map without any lines, and fill in all state lines and capitals. Pretty impressive!
Brookdale House has other great products that follow the Charlotte Mason method. I am really intrigued by what they have....Fun With Spanish, Primary Language Lessons, and Writing Through History are some of the other products members of the Crew recieved. Check out what they thought by clicking below.