In my state, high school students are required to have a year of foreign language to graduate from high school. I took a year of Spanish (eons ago) but really, expect for a few words have forgotten most of it.
And this is where
Middlebury Interactive Languages
is so helpful for getting those language credits.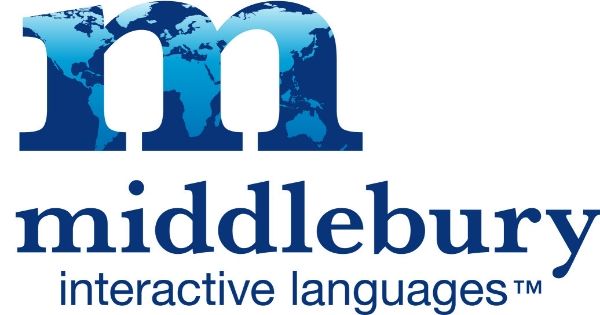 What It Is:
Middlebury Interactive Languages offers courses in French, German, Spanish, and Chinese. We decided to get the
Spanish Course (Spanish I)
which is at the high school level.
You can see what levels are available in which languages below.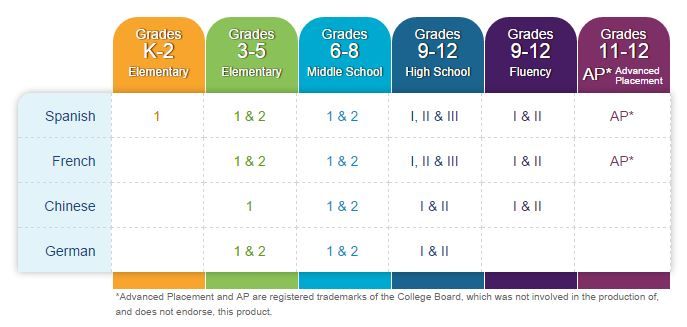 I received a semester of work, which includes 18 units of instruction. Within each unit are 5 lessons.
Each lessons consists of:
Vocabulary Guide:
This page lists all vocabulary words (in Spanish) that will be covered. You can click on any of the words to hear them pronounced correctly. There is also an option to print out all the words as well.
Warm-Up:
This exercise isolates half of the vocabulary words and has the students practice pronouncing the word. And if you hover over the word, the translation is given.
Matching:
These same words are then listed on one side, with photos on the other. Your child will then match the words to the correct photo.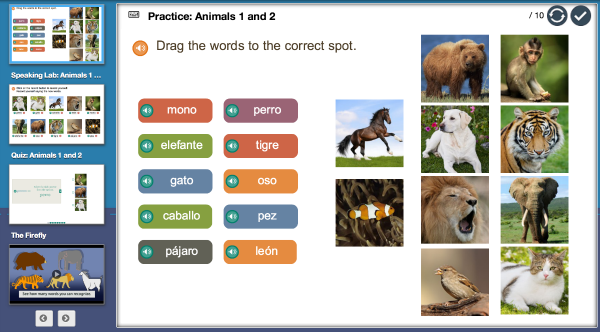 Speaking Lab:
This page has numerous sentences with the vocabulary words in them, and the students are encouraged to speak each sentence aloud.
This cycle is repeated another time, until all vocabulary words have been covered.
There are also....
Grammar:
In this section there are videos that are 2-5 minutes in length and cover things such as subject pronouns, definite and indefinite articles, and the "to be" verbs. There are also pages that practice and review the grammar concepts.
Synthesis:
These activities are varied, and range from filling in the blank, Listening and writing what was heard on the page, or reading a paragraph and answering comprehension questions.
Cultural Tidbit:
These pages share some of the cultural aspects of the Spanish culture and help students to understand moer about Latin America.
There are unit quizzes, a semester midterm, and a final at the conclusion of the last unit.
The final consists of 112 grammar and vocabulary questions, and two writing exercises, where your student will, in 6-8 sentences, answer questions in Spanish.
What You Get:
This
foreign language learning course
is available for $119. You also have the option to purchase a version that includes interaction from a teacher, which is a total of $294 per semester. Throughout the course are many opportunities to use a microphone and repeat words; I am sure that with a teacher listening this would be all the more effective.
There is also a calendar available, which tells you what you need to do each day to finish the course in a semester. You are not able to edit the calendar and cannot change any of the assignments. Middlebury Ineractive Languages does recommend that you do one lesson per day, and shows this on their handy calendar.
There is also a grade book that records what your child gets on the quizzes and tests.
And if you choose the With Teacher option, there is a place where you can communicate with your instructor.
How We Used This And What We Thought:
I gave this to Bookworm to do for the review period. With our state requirements, I was hoping that she could fulfill a semester of Spanish. She used the program 4 days a week, completing a lesson each day. I also had her write out any of the vocabulary words that she was learning, along with their definitions in a separate notebook.
She was frustrated at the beginning of each lesson, since they introduce vocabulary words in Spanish but did not give the translations right away. In a few of the exercises they are asked to read words and try to determine their meaning just by hearing or seeing them, and that was very frustrating for her.
But usually on the next page, the translation was given. She liked the Cultural Tips, and found that the Synthesis activities were varied and interesting. She did struggle at times when she needed to listen to the audio portions; it seemed like the speaking was a bit fast, and she would need to listen multiple times to understand what was being said. There is only one page that reviews the vocabulary words for the lesson, so I had Bookworm make up flashcards with the meanings on one side so that she could practice.
Since I had some Spanish in high school I skipped ahead to Unit 8, and was surprised that I did remember a few words. The format was much like the earlier units, but also included some flashcards, which we very helpful. I reviewed Spanish days of the week and months, and did the matching activities. I watched a short video segment on Mariachi Music, and then took a quiz and only got 2 wrong. :)
I appreciated the variety in this course; there were journal entry ideas, pronunciation practices, Conversation Stations (where you record yourself saying Spanish phrases), and teacher tips. I do wish that they gave more time or exercises to review the vocabulary and sentence structure; maybe printable worksheets or more pages reviewing vocabulary?
I have decided to ask Bookworm to push through this through the rest of semester. I liked the depth of this high school program, and if she finishes it, would have no problem giving her a semester credit of Spanish.
Other members of the Crew reviewed French, German, and Chinese courses; see what they thought by clicking below.