Let's face it, we are in the age of everything computers and the internet. So I am not surprised when I see more and more opportunities for learning online.
Time4Learning
is just that, a place for your students to learn online.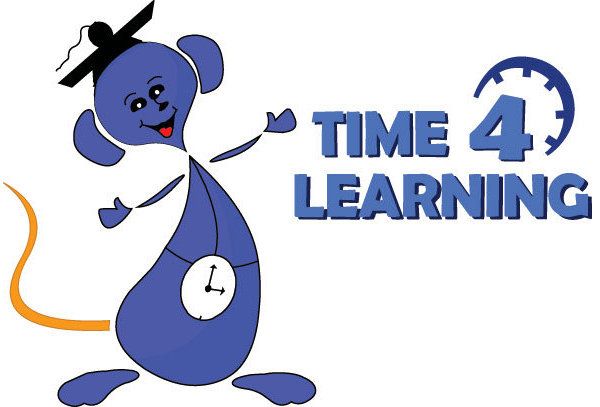 What It Is:
Time4Learning
is a great tool for homeschoolers. Meant for pre-K through 8th grade, this easy-to-use online program can be tailored to fit your needs. Divided by grade levels, the program offers
Language Arts and Reading
,
Math
,
Social Studies
, and
Science
.

I received a six month subscription at the 1st grade level. Here is a sample of what your child would learn at this level:
Language Arts and Reading
: Consonants, short and long vowels, variant vowels, singular and plural, and reading comprehension.....
Math:
Whole numbers, operations, shapes, time, measurement, and graphing.....
Social Studies
: Human needs, historical sites, map symbols, and states.....
Science:
Habitats, life cycles, seasons, and animal classification....
There is also a bonus
Language Art Extension
section. This compliments the Language Arts section and has added vocabulary, reading themes, and sentence writing practice.
But our kids rarely fall into the same grade in all their subjects. (At least mine don't!) So Time4Learning lets you, the parent, decide to either go up or down a grade level in any subject. That way you can tailor-fit the program to your child's needs.
A large part of the program is the parent resources. Here you can see the spelling lists for each grade level, you can download worksheets, see science lesson supply lists (for grades 3-8), and view lesson plans for each grade.
One thing I did was create a Weekly Activity Planner. All I did was fill in what grade levels I wanted her to do in each subject, enter the start date and end date, (August through January) and the program instantly filled out a day by day schedule for her. This made it very easy to tell her what to do each day; when she would log on, there was an arrow pointing to the topic she was to complete. It also told me which topics had worksheets to print out, showed her progress, and told me if she had a quiz or test to do.
What You Get:
Time4Learning is
available by monthly subscription
. You can purchase a Pre-K through 8th grade membership for $19.95, with each additional student being only $14.95. Time4Learning also offers four high school courses for $30 per month per student. This is a truly online program; you don't need to download anything and can access the site from any computer. Time4Learning also allows you to pause your account if needed, and has online forums and chats for teacher help.
Time4Learning highly recommends watching the short tutorials on the Parent Administration Page before having your child begin. These were very helpful in navigating the site as a teacher. After viewing, you will be able to track attendance, time spent on topics, and assign work.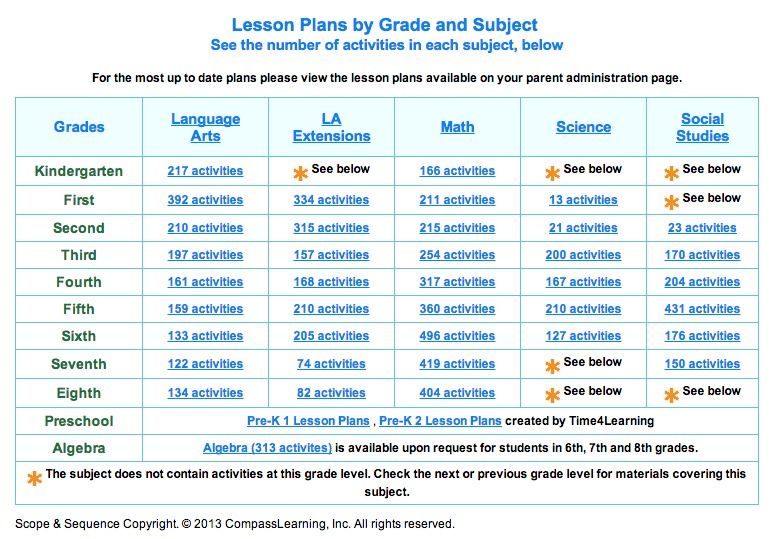 You can see above the many activities for each grade level....there are hundreds of activities for your child to do. And there is an extensive
curriculum overview
on their website too.
How We Used This:
I decided to have Nutsy use this program. When I first received it, I looked through the scope and sequence and decided to put her in 1st grade math, and 2nd grade science and social studies. Right away she started struggling with the math, so I went in and changed it to Kindergarten. Because she has had some math, we skipped ahead a few weeks into the Kindergarten math schedule. Lots of the lessons were interactive; asking the child to click on certain things, or to put things in order. Some of the lessons were read aloud to her, with animated voices. Other lessons were not read to her and had a sentence or two to read at the bottom; this was a bit frustrating for her since she is not reading proficiently yet.
According to her schedule, she had eleven activities to do each week. I had her log on three days a week and do 3 to 4 activities each day, which took her between 20 and 30 minutes. Since we were not doing any formal learning in August this turned out to be a great way to supplement and give her some 'school' to do. At the end of each section there were quizzes; these were not audible and were multiple choice.
What We Thought:
I had visions of Nutsy doing her school time on the computer with me periodically looking over her shoulder, but it didn't turn out that way. Even though she is now eight and can read at about the first grade level, the parts of the program that were not audibly said were too hard for her to read on her own. I needed to stay close by, to help when she needed to read something from the screen. I also noticed that if I wasn't there to supervise, she tended to hit the forward button before completing tasks on the current screen; again this was due to her not being able to read all that it asked her to do. She was also annoyed by one of the character's voice; it sounded like an adult's voice that had been sped up to sound like a child's, and at times was difficult for her to understand.
One thing that both she and I loved was the Playground. You, as the parent, can set a minimum lesson time (I set it for 20 minutes) and a maximum playground time (I set this for 10 minutes). So for every 20 minutes that she worked on a lesson, she earned 10 minutes of play time on the Playground. There was a plethora of games to play there....racing games, hide and seek games, and tic-tac-toe were her favorites. This idea gave her added incentive to work on her lessons and was also a fun break as well. You can also give no time on the Playground if you so desire.
This is a secular program. We didn't run into any overtly anti-Christian ideas, although when she did the section on Life Cycles and it was talking about babies coming from mothers, and mothers coming from grandmothers, it said that "We can't tell where it started." She turned to me with a questioning look on her face and said, "What about Adam and Eve?"
I struggled with this program for her. As she is progressing in her schooling, I am finding that she needs one-on-one interaction. She needs me to sit down with her and go over the things she is learning. While I could do this with Time4Learning and sit with her while she listens and does the lessons, I would rather be the one teaching her during our times together, and use computer time for independent learning. Part of our struggle might have been her age; I could see how my two older daughters would have done much better with this program and would have appreciated the scope and sequence.
This would be a great resource for supplementing your homeschooling subjects, or something fun to do while on summer or Christmas break. And this isn't just for homeschooolers! Time4Learning is also a great resource for those wishing more for their kids during the summer and in the afternoons to
supplement their schoolwork.
Other Crew members reviewed other grade levels; I enjoyed reading what they thought, and I am sure you would too! Click below to see what they had to say about Time4Learning.