Homeschool Product Review: 25 Truths
As homeschooling parents we tend to focus on the academic stuff. The math, history lessons, science experiments, and proper grammar. Don't get me wrong, these things are very important, but sometimes we get so focused on those topics that we forget that character training is an important part of education as well. And that is where
25 Truths from Ed Douglas Publications
comes in as a very handy resource.

What It Is:
To put it simply the book
25 Truths
, written by
Ed Douglas
, is a motivational guide. And Mr. Douglas is someone who has lived a successful life and wants to share his experiences and advice with others. He has spent over 30 years in the banking industry as President and CEO, has also been appointed by different governors to statewide positions, and is a tennis coach and marathon runner.
Years ago, he wrote down a list of concepts or truths, that have influenced him and given him motivation. He planned to share them with his children and grandchildren, and ended up publishing them in this book.
Some of the truths listed are
Be Slow to Judge
See the Glass as Half Full
Practice - It Makes Perfect
Give and it will Come Back to You
Spend Time with your Family
Play to Win
Each truth is its own chapter and is only 2-4 pages long. In these paragraphs Mr. Douglas pulls stories from his own youth and life experiences, some good examples and some bad, to show how important that truth is. There is a summary sentence after the reading passage, and there is also a Workshop section with questions for discussion and thought.
You can purchase
25 Truths from the website
for $12.50. The paperback book is 150 pages in length and is only 5x7 inches, which makes it easy to bring along on car rides or to the kitchen table for evening family time.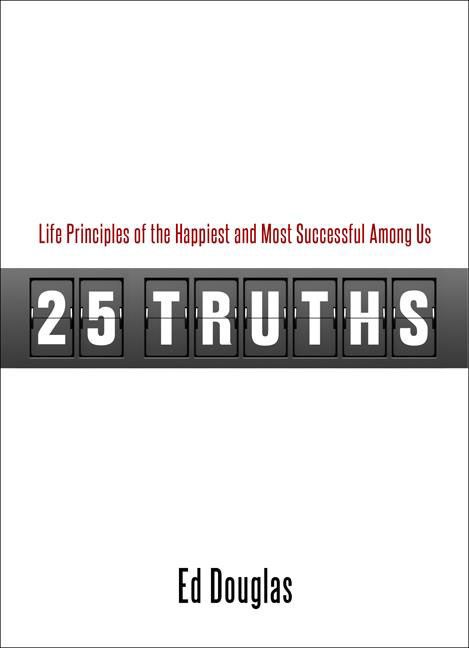 What I Thought:
I used this as part of our Together School Time and would read the reading section aloud to all the kids. At times we would stop to reminisce about how we had struggled with that particular topic, or I would add more information to clarify. Then we would discuss the Workshop Questions. This turned out to be the highlight of our Together School. The discussions that came about from the questions were excellent for my kids, and gave me the opportunity to encourage and edify them without feeling like I was giving them a lecture.
For example one of the Truths is Protect Your Reputation. We had a wonderful discussion about how others see us, how sin can really affect our relationship with others, and what steps we can take to protect our trustworthiness.
The complete title of the book is
Life Principles of the Happiest and Most Successful Among Us: 25 Truths.
I must admit that when I first received it I thought I was going to have trouble with some of what he was saying. I strive to find my hope and joy in Christ, and know that the trials and sanctification that come along with being a Christian can make my life miserable indeed, so seeing that title made my heart rate go up a teeny bit.
But then I started reading the preface and skimming the book. Mr. Douglas makes it clear that he is not replacing the Ten Commandments or any teaching of Scripture, but rather this book is meant to give concrete tools and ideas that encourage and motivate us. There is references to Scripture and Bible quotes sprinkled throughout, but not overwhelmingly. In fact, seeing more Scripture quotes and a Biblical focus is something I would have liked to see. For example, he mentions a variety of things that make you truly happy and having a strong spiritual relationship with God is one of many things listed and all of the things are given equal importance. But overall, this book gave our family many wonderful opportunities for profitable discussion.
The age group that this book is appropriate for is 6th grade and up. There are some references that you might need to proofread before reading with younger children, such as Tiger Wood's infidelity, viewing sex and violence on television, alcoholism, and mentioning sitcoms generally. But I was easily able to re-word the sentences when my youngest daughter was listening in.
I am excited to continue using this in our schooling. It is a helpful tool to use in discussing ways to improve character and an excellent way to engage our precious children.
Other members of The Crew read this book and reviewed it; click below to see what they thought.