Product Review: Home School in the Woods - Great Empires
I love studying history with my kids. We go through history chronologically, and are just at the beginning again of our 3rd time through. Sometimes, studying history this way, you can lose sight of the big picture, and forget to see the overview. And that is where this fun history study guide, from
Home School in the Woods
, is a nice supplement to your studies.
What It Is:
Great Empires
is a brief study of the many great civilizations in history. These include:
Ancient China, Egypt, Greece, Vikings and Rome
English, French, and German Empires
Japanese, Russian, and Mongolian Empires
Spanish, Arab-Muslim, and United States Empires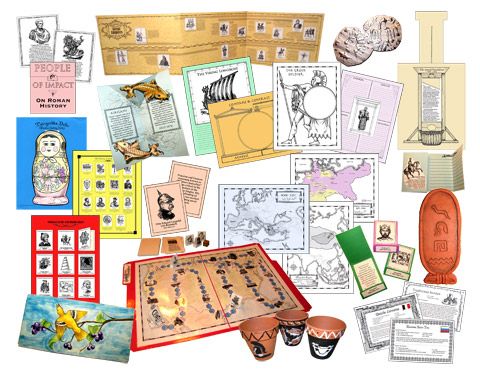 As you can see, it covers the world from the beginning of history through modern times. Each section has many different things that make that portion of history come alive for the student. Each area has its own
text
. This part gives a brief summary of the empire, including battles, key figures, belief system, and culture. The text ranges from 2-3 pages with a reading level of about 4th grade.
Next come the
projects
. These are varied and include map worksheets, copywork ideas, games, cooking recipes to make, and words to look up and define. There are even some
fun craft ideas
, such as painting Greek pottery or making an Egyptian cartouche. Each area has a
booklet
to make. These are to be cut out, folded, and then filled in by the student. They focus on important events in that civilization's history.
Each section also has suggested
internet search
ideas which all conveniently are linked to at the Home School in the Woods website. And finally there are
reading suggestions
for further research, if desired.
What You Get:
I received the downloadable pdf version. This sells for $18.95 in the website. All the text, project ideas, booklet templates, timeline figures, and maps are included. The only thing you will need to provide is the supplies for the crafts, which include a terra cotta pot, clay, paints and brushes, and glue. You can also purchase Great Empires on a CD for $19.95 if you would prefer. You can see
samples of the text, activity sheets and templates here.
How We Used This:
I have always wanted my younger kids to get an overview of history so I did this activity guide with my younger two. Meant for elementary-aged students, Great Empires was a good fit for them. The reading level was appropriate and either I would read it aloud to them or have Dasher read a couple of paragraphs on her own. They loved the hands-on aspect of the booklets; for every section there is one to make and the content is varied so that it is not repetitive. When we studied
Ancient Greece
, they both enjoyed designing their own Greek shield and learning how different Sparta and Athens were.
Our co-op just finished up modern history in January and we are starting all over again with
Ancient Egypt
, so we brought the Cartouche craft along to share with everyone.
The children took some clay, formed the cartouche, and then using nails or pencils, carved their name in hieroglyphics on the clay.
We baked it and then they had their very own Egyptian cartouche!
When we studied Ancient China, Nutsy did some copywork of some Chinese proverbs, and we made a stir fry that night in celebration of China. 
Each section takes about a week to go through, which means that you could finish the entire activity guide in about 14 weeks.
What We Thought:
I liked the varied activities that the guide had to offer. Sometimes the reading was a little hard for Dasher, but she does struggle with reading and I was right there to help her along. The writing in the booklets was not too intense for Dasher, but for Nutsy (2nd grade) I would require her to write one sentence and then she would draw a picture of what we had read about in the text. I really liked the mapping worksheets; before we would do our map pages the girls would try to find that country on our globe.
This fun activity guide is accomplishing what I want it to do....give my girls a sense of overview in history. I am looking forward to finishing this study with them - looking ahead I see a fun game about the United States, a craft designing their own Russian nesting dolls, and a fun Kirigami craft when we study Japan.
There were two other activity guides that members of The Crew received:
Composers
and
The 20th Century in America Lap-Pak
. Check out what they thought by clicking below.