Adventus - Music Instruction
If you know me in real life, you know that I love music. And eons ago, before life got busy with homeschooling and mothering, I taught beginning piano. Music is very near and dear to my heart and so when this online product came up for review from
Adventus
, I knew I wanted to try it out on my brood of learners.

What It Is:
Adventus has produced a fun online computer program, called
MusIQ Homeschool
. It is designed to teach children of all ages about music, composers, theory, and keyboard instruction. There are three different programs that I received: Children's Music Journey, Piano Suite, and Ear Training Coach.
The
Children's Music Journey
consists of three volumes or levels. Meant for ages 4-10, these fun and animated lessons teach note value, the musical alphabet, rhythm, intervals, and so much more. Here is how it works: you will create an account and password for each child. They will then watch a short lesson, taught by an animated composer. The approximately 5-minute lesson is interactive, using both a plug-in keyboard and the mouse. After your child has viewed the lesson, they can choose where to go next. There are 4 different "rooms" or choices...
Practice Room:
This is a place where Miss Melody will guide your child in practicing the techniques they learned in the lesson. Through songs and games she reinforces what was taught.
Improvisation Room:
This interesting room has a side bar full of instruments, and a CD player-type control panel in the center. Your child can choose a guitar, violin, banjo, flute, or even a full orchestra as an instrument and play a song on the keyboard. There are even percussion instruments to use as well. This can be recorded and saved into the Library Room.
Library Room:
This room truly is a library; here your child can hear songs by their composer-teachers, songs like Beethoven's
Fifth Symphony
, or Scott Joplin's
Maple Leaf Rag
. You can also view previous lessons and songs.
Game Room:
This is obviously the fun room. As your child progresses through the lessons, games on this page become unlocked. These games are interactive and supplement the lessons.
Piano Suite
is meant for an older student and can be used from ages 8 to adult. This program begins at the beginning with an overview of the piano and pitch, and then goes up six levels to the circle of fifths, triads, and inversions. In this program you can choose from:
Piano Player:
This page is where you can play songs. You choose the level you are on, the category of song, and even have control over the metronome (speed) and size of notes.
Theory Thinker:
This part is the lesson section; there are 6 different skill levels to choose from. An off-screen voice teaches these lessons with visual aides being shown on the screen.
Composer Corner:
Like the Improvisation room above, this is a spot where you can write music, but in a more advanced way. There is a grand staff and places to choose key signature and speed.
History Happens:
Here your child will learn about composers, their music and life. There is also a historical timeline with figures in the pdf lesson plans to print out and use.
Games:
What course would be complete without games? Fun ones such as Music Concentration, Grand Staff Battle, and Word Play help teach the theory concepts.
I also received the
Ear Training Coach
; this resource for intermediate students helps to develop their musical ear with interactive games and exercises. Things that are covered in this program are sight reading, melody and rhythm memory exercises, and interval training and recognition.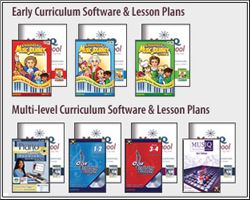 What You Get:
With the both Piano Suite and Children's Music Journey software you will also receive the pdf lesson plans. These are extremely helpful in guiding your children through the sessions. There are suggested questions, review ideas, and lists of materials needed. At the end of each of the lessons are one to three printable worksheets for your child to do. There are book suggestions in the lesson and in the appendix of each level are printable alphabet cards, music game cards, and other helpful flashcards.
There are two ways to purchase this software: you can get
monthly access
to the lessons for $10.95 a month or you can buy the software to use as long as you wish. If you purchase the monthly access you will need to have a MIDI piano keyboard. Children's Music Journey is sold as a bundle with the three levels and a MIDI keyboard on their website for $279.80; you can also purchase individual levels for $69.95. Piano Suite also comes with a MIDI keyboard and is sold for $189.95. The Ear Training Coach is available for $34.95. You will need to have a system that supports Windows 7/Vista/XP/2000 Macintosh OS X.
How We Used This And What I Thought:
I had all three girls in this program. The younger two, Dasher and Nutsy, have not had any music training yet so they both started at the beginning with
Children's Music Journey
level 1. They each had their own accounts and so could go at their own pace. I had them do music for 10 and 15 minutes each day, 4 days a week. Basically they would do watch the lesson and visit the other rooms one day, then the next day I would talk with them about what they learned (using the lesson plans) and then they would do a couple of activity pages. And I have to say this was a big hit for them. They really looked forward to their music time and enjoyed the lessons. I saw Nutsy able to identify middle C and copy simple rhythms patterns. Dasher did very well with this program as well; she especially enjoyed the games and Improvisation Room. Dasher tends to get a bit frustrated when she can't get something right and so I appreciated it that when she made mistakes the teacher in the program wasn't negative and would just say, "Careful!" I do plan to have both Nutsy and Dasher continue learning music through these fun and interactive lessons.
I have been teaching Bookworm piano for a few years and so I started her at level 2 in
Piano Suite
. She followed the same pattern of doing music lessons 4 days a week but moved pretty quickly through the lessons. She liked the composer lessons and enjoyed learning more about them. I liked the systematic way that this program progressed, and even learned some new things myself.
She did have some problems with this program though. Her lessons in music had so far been done on the piano and so she had a hard time transitioning to the keyboard. She struggled with the difference in key weight and the inability to change the volume or give feeling to her song-playing. The other thing that we had trouble with was that there was a slight delay from the time that she played a note on the keyboard and when it registered in the program. This proved to be very distracting when she was playing pieces with the piano player feature. This also made portions of the Ear Training Coach program useless, since it always marked her down for playing the notes late. I did call the company to see what solution there might be to this problem and I found that I could either buy a $89 USB key to configure the keyboard and computer, or I could go through a lengthy process of compressing and configuring multiple downloads from the internet. This was disappointing but not devastating; I do plan to have Bookworm continue to go through the lessons, play the games, and learn more about the composers, but she will do her piano playing on the piano with her own music.
This program would be a good fit for younger children and does a great job teaching about music theory, composers, and music history. This would also be helpful for those homeschoolers who don't have a piano or can only play on a keyboard.
Check out what others thought about this product by clicking below.