I have three precious daughters. Daughters that I pray, as they get older in age, will grow in their relationship with God. This is my deepest prayer for all my children, and something that I could not teach them on my own. Which is why a book like Journeys of Faithfulness from
Apologia
is very welcome in our library.

What It Is:
Written by Sarah Clarkson, this book is a collection of devotionals and dramatized Bible stories for young women. Each chapter has four components:
Bible Story
Devotional
Bible Study
Journey Journal
The
Bible Stories
presented are dramatized version of five different women from the Bible:
Mary
Martha
Mary, Mother of Jesus
Esther
Ruth
Each story is told from the perspective of the main character, and in storybook fashion gives glimpses into their life struggles and lessons. For example, in one of the stories Mary is dealing with her unbelief when her brother Lazarus dies. Another story is about Mary, the mother of Jesus, when the angel visits her and tells her that she will bear the Messiah. The stories really do grip the reader and are enjoyable to read.
The
Devotionals
are in Sarah Clarkson's voice, and are memories and advice from her life experiences. In this section she opens her heart to her readers, showing them how God has molded and shaped her.
The
Bible Study
section is comprised of three different passages of scripture to look up, with one or two thought questions to answer. In the section about Esther and her new life in the King's house, the reader is asked to look up Romans 12:21 and study that verse. They are also challenged to apply "overcoming evil with good" in their own relationships and to think of practical ways to not be overcome with evil.
The
Journey Journal
is two to four blank, lined pages, and is a place where the reader can record their thoughts and ideas from the book.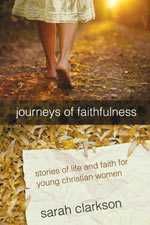 What You Get:
This book is soft cover and 232 pages long. You can
order it through Apologia
for $13.00. There are four parts in the book with twelve chapters total. You can also see the
Table of Contents
and a
Sample Chapter
on the website.
How We Used This and What I Thought:
This book is written for teenage/young women, so I had Bookworm use it to study during her Bible time in school. She enjoyed the stories and words of wisdom by Sarah Clarkson, and felt that she learned a lot through the Bible study questions. There are a lot of liberties taken with the Bible stories; for example in the story of Esther, she is given a servant who becomes her confidant and friend and whom she tries to convert to Judaism. At times Bookworm struggled with this and felt uncomfortable with a Bible story being added to, but it did provide some good conversations about cultural practices during Bible times. I did read the stories as well and felt that the author accurately portrayed them; we just have not read many Bible stories in a storybook-format and so for that reason they seem different to her. I felt that the devotionals gave more insight and depth to the stories, and the Bible study questions were very thought provoking to her. I did find that Bookworm got much more out of the book when we sat down and talked about the verses and her answers together. I do plan on having her re-read portions in the coming years, as well as having my younger daughters read this book when they are older.
As always, check out all of Apologia's lovely products, including this one. And hop on over to The Crew and see what others thought of this book.

Disclaimer: As a member of the TOS Crew, I received th

is

book

, at no cost to me, for my honest and humble review. All opinions are mine.