Using a reading ruler when you read can be very helpful. Dasher has a hard time with reading so when these Reading Rulers came up for review from
Crossbow Education
I decided to try them out on her.

What It Is:
These
sturdy plastic reading rulers
are meant to be placed over any text to help with reading. The ruler itself measures 8" by 3". There are two windows you can use that are on either side of the ruler: the first is 1/2" high, and the other window is 1 1/4" high.One side of the ruler is glossy, the other is matte, so you can experiment with which side works best for you.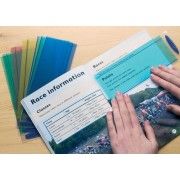 What You Get:
I received the 10 pack duo-window color set. There were 10 different colored rulers:
Pink
Celery
Sky
Magenta
Grass
Yellow
Aqua
Purple
Orange
Jade
The student is encouraged to lay all the rulers side by side on a piece of text and then choose the one that they are most comfortable reading with. The rulers can even be trimmed to fit in any book. The
10 pack of rulers is $16.95
on the website; you could also choose from rulers that have only a plain window, a simple colors set, and even cases to keep the rulers in. You can also read more about
visual stress
, the symptoms, and what you can do on the Crossbow Education website.
How We Used This And What I Thought:
Dasher just plain struggles with reading. She is not dyslexic or special needs, but I thought these rulers would help her as she progressed beyond simple picture books and into chapter book reading. She chose her color and used the ruler during our daily reading time. I did feel like it kept her from getting distracted; one of her problems is that she guesses the words which she doesn't know based on the context of the story and the ruler forced her to slow down and read every word. It also helped her to not skip lines; something that she has struggled with too. She had fun picking out the color of ruler each day and I thought it was interesting that she seemed to read better with the blue and green hues. And when I asked her, she told me that she enjoyed reading with the ruler and felt that it did help her when she read. I even tried reading with it for a while, and did notice that it gave my eyes a rest. This product would be helpful to anyone who struggles with tired eyes or visual stress. There is a variety of other products on their website that would be very helpful for dyslexic or special needs students.
Other members of the Crew received the Reading Rulers; check out what they had to say about them by clicking here.

Disclaimer: As a member of the TOS Crew, I received th

is

product, at no cost to me, for my honest and humble review. All opinions are mine.