Reading Kingdom
I am almost done, folks. My baby is now a seven year-old who is reading short-vowel sentences, and so I am almost done teaching reading. And can I just say what a journey it has been. I have had an early reader and a late reader, a lover of books (Why do you think her blog name is Bookworm?), and a child for whom I have to put the timer on for 15 minutes for reading time. I have used a wide variety of reading curriculum, and was happy to review an online program called
Reading Kingdom
.

What It Is:
This online program starts at the beginning and will teach your children how to read all the way through the third grade level. When I mean the beginning, I mean right at the start of reading, with letter recognition.
There are 4 main components to this program. First, is
Seeing Sequences
. In this beginning section your child will learn how to visually scan words and recognize the left-to-right sequence. They will also work on memory skills that are crucial to reading. The next level is
Letter Land
where, using an on-screen keyboard, your child will learn where the punctuation marks and letters are located on the keyboard. They will also learn how to identify upper and lower case letters and understand using the shift key.
After these two beginning sections, your child will be ready to move into the
Reading/Writing
levels, of which there are five. In each level your child will learn between 36 and 63 new words, and read 6 different books using those words. Each word is taught through different games and activities with one or two words being introduced per lesson. Every lesson takes about 15-20 minutes to complete; if done at the rate of one lesson per day, each level takes 10-15 weeks to complete.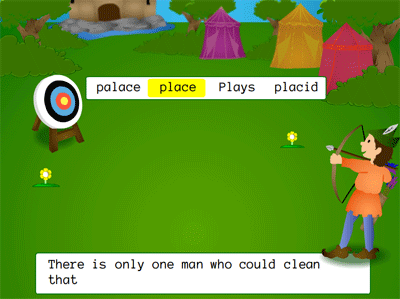 And that brings us to the last component of this program;
Skill Surveys
. Before your child begins, and after completing the Sequence and Letter Land portions, your child is placed using the online survey. Some children skip the beginning levels and move directly into Reading/Writing, while others might need some keyboard practice before being placed based on their reading skills.
What You Get:
The first 30 days of your
subscription to Reading Kingdom
are free. This is a perfect way to see if this program fits your child and your teaching style. After the 30 days, your first reader is $19.99 a month or $199.99 a year, with each additional child being only $9.99 a month or $99.99 a year. And your subscription is risk free; you can cancel at any time. This program is meant to go from Kindergarten through the third grade reading level; you will receive weekly emails letting you know the progress of your child. And you can also go to your account and see exactly what words they know, which ones they are struggling with and what they will be learning next. Another plus is that you can purchase a hard copy of the books from each level. You can read more about the
approach Reading Kingdom uses
and the founder,
Dr. Marion Blank
at the website. You can also see
sample pages
of all the sections as well.
How We Used This:
Nutsy is my final reader so she got the privilege of doing this program. We are not computer gamers so she completely failed the keyboarding section and spent the first three weeks in Sequencing and Letter Land. This was right where she needed to be; she can read words with short vowels but did have a hard time finding the letters on the keyboard. After her three weeks she was getting pretty fast at finding the letters and moved into the first level of Reading/Writing. In this section, she learned sight-words, which included kid, girl, kids, girls, some, and boys. When she has mastered 8 words she'll get to read a book made up of those words.
What I Thought:
Well, I am a big proponent of phonetic reading. Of course there are some words in our crazy language that we just can't explain and that we do memorize, (and I do teach some sight words to my early readers), but I have found that I prefer mainly teaching reading the phonics way. And this program, while fun to do, is definitely a sight-word method. Nutsy enjoyed doing the games; she did struggle with the repetitiveness and would mess around with the on-screen keyboard when she was bored. (Which is probably why it took her so long - I think the program thought she was getting the answers wrong.) I actually liked the keyboarding and sequencing sections and felt that she came away with a better knowledge of letter placement on the keyboard. I am planning on having her do this program for sight-words; I do think that some words that are rule breakers are just memorized and this would be a good tool to use to teach those words, and also for those parents who use a more look-say method to teaching reading.
See what other members of The Crew thought of this program by clicking below.

Disclaimer: As a member of the TOS Crew, I received a one-year subscription, at no cost to me, for my honest and humble review. All opinions are mine.