Box Of I.D.E.As. Pearl Harbor
History is one of my favorite subjects to teach. And now that I am in a co-op where another mom is teaching history (and doing wonderfully at it, I might add), I jumped at the opportunity to review a history product for The Crew. And what made it even more timely? We are studying the 20th century this year in co-op, so studying World War II and Pearl Harbor as we used this product was perfect.

What It Is:
Box of I.D.E.As.
, which stands for
I
deally
D
ynamic
E
nrichment
A
ctivities, produces boxes filled with fun, hands-on ideas for you to use to teach your children. Each box comes with at least 10 modules that offer a variety of exercises and activities about a certain topic. The World War II Pearl Harbor box comes with these modules:
Before Becoming a Base
Beginnings of Naval Presence
A Week Before the Attack
Day of Infamy
Day After the Attack
Weeks After the Attack
Six Months After the Attack
A Year After the Attack
Victory Over Japan - VJ-Day
Decades After the Attack
Each module begins with a cover sheet, which gives a quote (this can be used as memory work or copywork), the contents, and the PDF instructions. The first component is a short reading section to introduce the module. This part describes what specifically is being studied and gives background information for the student. Extensions are next; this section has a variety of activities and suggestions for study. These include research ideas, experiments, further study activities, and essay or writing suggestions.
The next section in each module are the web links; below each link is a suggested activity. These range from studying pearls, to watching war footage, to learning about journalism. The modules also include other activities; there are matching games, memory games, puzzles, and worksheets. The worksheets are called portfolio pieces which, after your child completes, can go into a notebook to record what they have learned.
What You Get:
I was given the
PDF version for Pearl Harbor
; there is also a
physical box
which you can purchase from the website. The PDF version is $49.00 and comes straight to your email in box. An answer key is included for all of the portfolio pieces which is very helpful. There is also a timed summary test for your student to take when they have completed all the modules; this can either be used as a formal history test or a verbal review. The websites suggested for each module are conveniently linked in the PDF version.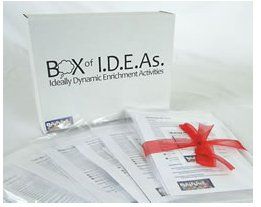 How We Used This:
Since we were not quite up to World War II in our co-op, I decided to start with the first module and see how far we could get in our review time. My kids had so much fun with it that we went all the way through the
Day After the Attack.
I printed off the copies I needed for each module and then we sat down to study. I am the kind of teacher that likes to teach as the moment arises and not stick to any textbook reading, so the loose format was perfect for us. For example, in the module titled
A Week Before the Attack
, we learned about military convoys; specifically the convoy that brought supplies, airplanes, and ammunition to the South Pacific in the days before the attack. We learned about the different vessels that made up this convoy and talked about the many things you would need to survive if you were a soldier in southeast Asia. We went online and learned about ship camouflage, saw photos from the war and photos from a re-enactment. The portfolio page in this module was about military acronyms and G.I. jargon which was fun to figure out, and the activity was a card game matching all the different branches of the military. The kids kept a score sheet for each hand they played and tried to match the cards. Each card had a fun fact about that particular branch. (Did you know there were only 36 Medal of Honor recipients in World War II?)
What I Thought:
I really love this kind of educating. The kind where your kids are having a ball exploring, playing games, understanding, and you know that they are learning. That real learning that gets filed deep down into their brains. My son especially loved the web links; when we studied The Day of Infamy we saw live footage and an interactive map of the tragedy. The games and activities were easily modified for all my children; 7 year-old Nutsy could play most of the games and answer questions, while if I desired, I could have given writing assignments to my older children. As part of our homeschooling journey, we have been a part of a co-op for the last 4 years. This product would be a perfect fit for that type of schooling and a great way for a group of homeschoolers to learn. And Box of I.D.E.As. makes it very easy; aside from printing off the necessary worksheets and game cards, with a pencil, paper, and your computer, you have everything that you need.
I think my only complaint about this product was that I was given the PDF version. It is suggested that you print out the game cards and boards on heavy cardstock, and most all of them also need to be printed in color. This can get expensive, so I would recommend purchasing the physical version; which is sold for $79.00 on their website.
I was also excited to see other Boxes on their website to purchase; Laundry, Salt, Eleven (really curious about that one!) and Quilting.

Other members of The Crew reviewed the Pearl Harbor Box along with me, as well as the Salt Box...check it out by clicking above.
Disclaimer: As a member of the TOS Crew, I received this product, at no cost to me, for my honest and humble review. All opinions are mine.