Thomas Jefferson Education - This Week In History
I love studying history. And I love making history come alive for my children, because face it, no one wants to read a boring textbook for an hour a day. Enter
This Week In History
from
Thomas Jefferson Education.
What It Is:
First, I need to describe what Thomas Jefferson Education is. In a nutshell, this education philosophy focuses on seven principles:
Classics, not Textbooks
Mentors, not Professors
Inspire, not Require
Structure Time, not Content
Quality, not Conformity
Simplicity, not Complexity
YOU, not Them
Aren't those seven things sounding familiar? I know they hit close to home for me; some of them being the very reasons I homeschool. To learn more about TJed, you can see their
About page here
. What I reviewed though, was their This Week In History resource. Every week an email would appear in my inbox, with what had happened in history that week. But this is more than just a walk through history, the editors of this resource pull historic and scientific events together in a unit-study format. This was what I received for the week of July 26th -August 1st.
July 26th:
New York becomes a state (1788)
Great Britain granted independence to the Maldives (1965)
July 27th:
Transatlantic cable connected (1866)
Bugs Bunny was born (1939)
Pony penning day on Chincoteague
July 28th:
Beatrix Potter is born (1866)
Johann Sebastian Bach died (1750)
July 29th:
Alexis de Tocqueville was born (1805)
National Lasagna Day
July 30th:
Puccini was born (1747)
July 31st:
Soap is patented (1790)
August 1st:
Colorado becomes a state (1876)
Each of these events is then built upon with links, activities, books to read, maps, and interesting facts. For example under Puccini is a link to his photograph, and a short paragraph about him. Then there are three links to use which include listening to
La Boheme,
and a couple of websites where you can learn more about Bohemian Opera. But that is not all. There are musical vocabulary words to learn and a link to an online musical dictionary. There is even a link to a site where your child can design their own opera.
For each of the events listed above there are links galore. New York and Colorado state maps, coloring pages, and puzzles. A coral reef learning page about the Maldives, Kid's Morse Code activity (transatlantic cable), and a lesson on drawing horses. This resource truly goes beyond history and includes music, art, geography, current events, science, and writing skills.
What You Get:
For $9.99 a month, you will receive the weekly resource which is accessible 2 ways: either via email to your inbox, or through their blog feed. And the really neat thing is that when you are a member, their entire site is available to search by date, content, or key word. You can see a
sample week here
and
subscribe here.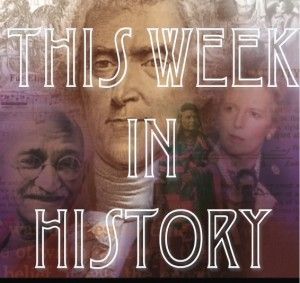 How We Used This:
This fit perfectly into our "Together Time", that time at the beginning of our school day where I gather all four of my charges for our together teaching time. We usually do Bible, Latin vocabulary, memorization, and any other subjects where we work together. The day before I had already gone through the email and decided what things to focus on; really there is a lot to choose from and we could not do it all. We chose to use this 3 days a week and then I picked and chose from what I knew the kids would enjoy, regardless of the day. Of course we learned about the horses of Chincoteague, and my girls had a fun time with the drawing lessons. I love Bach so we followed the link and listened to his Toccata and Fugue in D minor. I read a bio on his life aloud while the younger two did an activity sheet, and then the older two took an online quiz. I chose to do all the activities together, so my son and older daughter were answering most of the questions while the younger two were listening in. There are no age limits to this resource; as a teacher you get to decide what is age appropriate based on your child's abilities.
What We Thought:
I really enjoyed this resource. In some ways, it made me want to toss out our history, science, and geography curriculums and do this instead. And if I had all younger kids I would seriously consider doing this, but I do have two middle/upper grade students, who need to be a bit more challenged and have solid classes on their transcripts. I could see this also being great for a homeschool co-op; each week the teaching mom would take things from that week in history to teach in a group setting. I really love using historical and cultural events to wet the learning appetites of our children, so in our homeschooling I plan to periodically use this as a part of our Together Time.
Other members of The Crew received a subscription as well, check out what they though by clicking below.

Disclaimer: As a member of the TOS Crew, I received a one-year subscription, at no cost to me, for my honest and humble review. All opinions are mine.