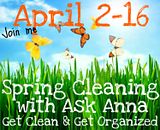 The weather is definitely getting warmer. So we totally needed to do the semi-annual switching of seasonal clothes. My Sweetie and I have a walk in closet so we can keep both our warmer and cooler clothes out all year round, but the storage in our children's rooms are just ordinary closets and dressers, so I need to change out with the seasons. And it is a good thing too, or else I would have crazy kids running around with short sleeve shirts on when it is 40 degrees out.
So today I tackled the biggest of the switch-a-roo rooms: the girls clothes. First I put all their clothes, both summer and winter, out in piles. My girls wear mostly skirts and dresses so the bulk of their clothes is in the closet.
Here is what the empty closet looked like.
We went through it all and decided if it was too small and should be handed down to the next sister, was torn or stained and needed to be tossed, or was too small for anyone and could be given away.
(Photo courtesy of Mr. Lego, obviously.)
Then I separated the winter from the summer attire, and then the summery clothes went back into the closet....
And I was left with these piles to put into storage or to bag up to bless someone with.
Mission accomplished!